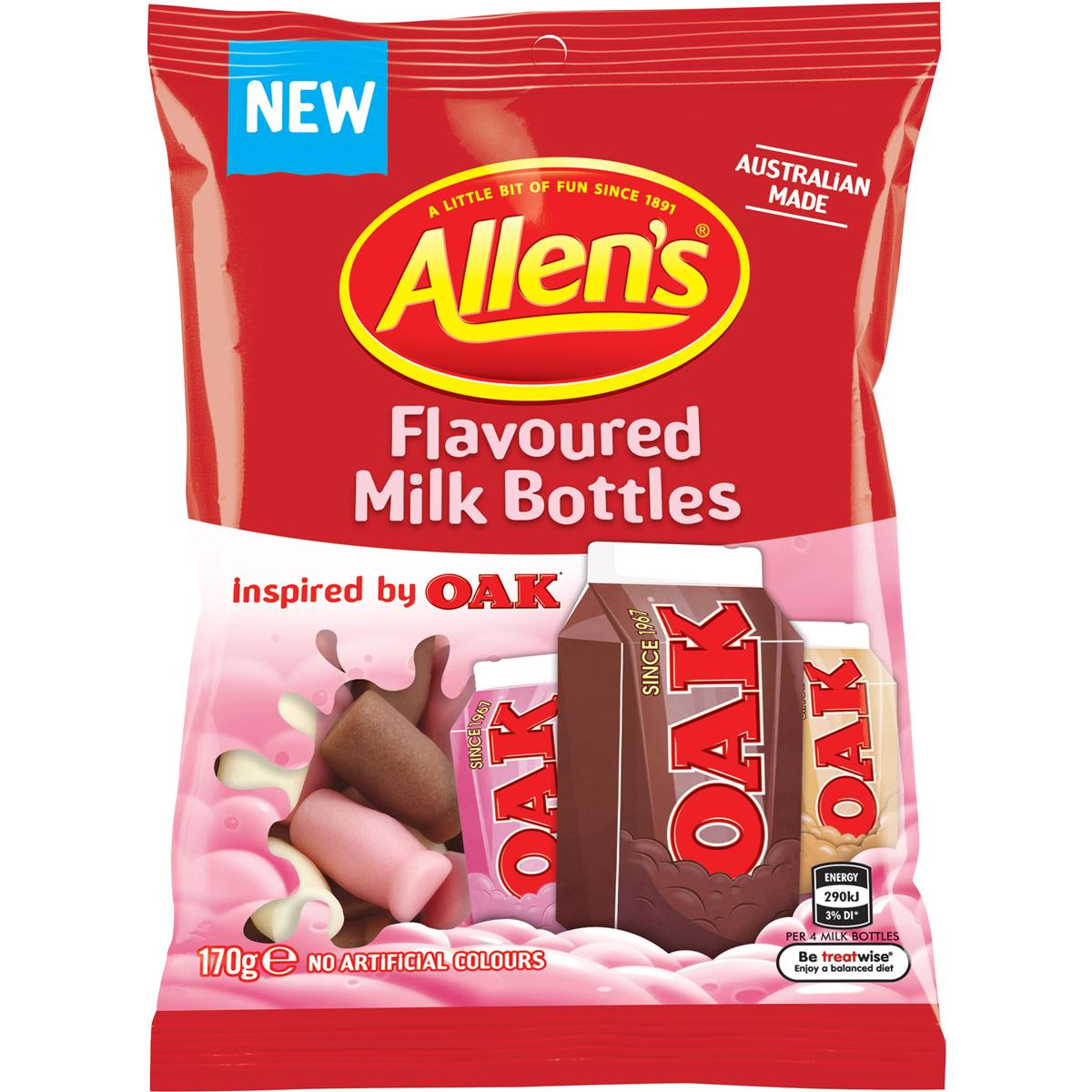 Image gallery
Each link opens a larger version of the image
Allen's Oak Flavoured Milk Bottles 170g
Product Details
These are our famous Milk Bottles with a classic OAK twist! Grab one of these Allen's flavoured Milk Bottles - inspired by delicious OAK Chocolate, Strawberry and Vanilla Malt flavoured milk - and rip in, enjoying each full-on flavour! • Allen's has been a little bit of fun since 1891.• Recycle me! Return your soft plastic wrappers in store through REDcycle.• Allen's OAK Flavoured Milk Bottles Lollies contain no artificial colours, so are great to share with family and friends.• 4 Pieces = 1 Portion.
Ingredients
Glucose Syrup, Cane Sugar, Thickener (Dextrin Roasted Starch, Acid Treated Starch Or Starch Acetate)( Wheat ), Gelatine, Flavours, Malt Extract ( Barley ), Salt, Colours (Carminic Acid, Vegetable Carbon).
Contains Wheat, Barley and Gluten.
May Contain Milk.
Nutrition Information
Servings Per Package: 8
Serving Size: 20g
Quantity Per Serving
Quantity Per 100g / 100mL
Energy
Approx.290kJ
Approx.1450kJ
Protein
Approx.0.6g
Approx.3g
Carbohydrate
Approx.16.4g
Approx.81.9g
– Sugars
Approx.9.1g
Approx.45.4g
Sodium
Approx.21mg
Approx.105mg
Quantities stated above are averages only. Further nutrition information may be displayed on the product label.
< means Less Than.
- means that the value is not available.