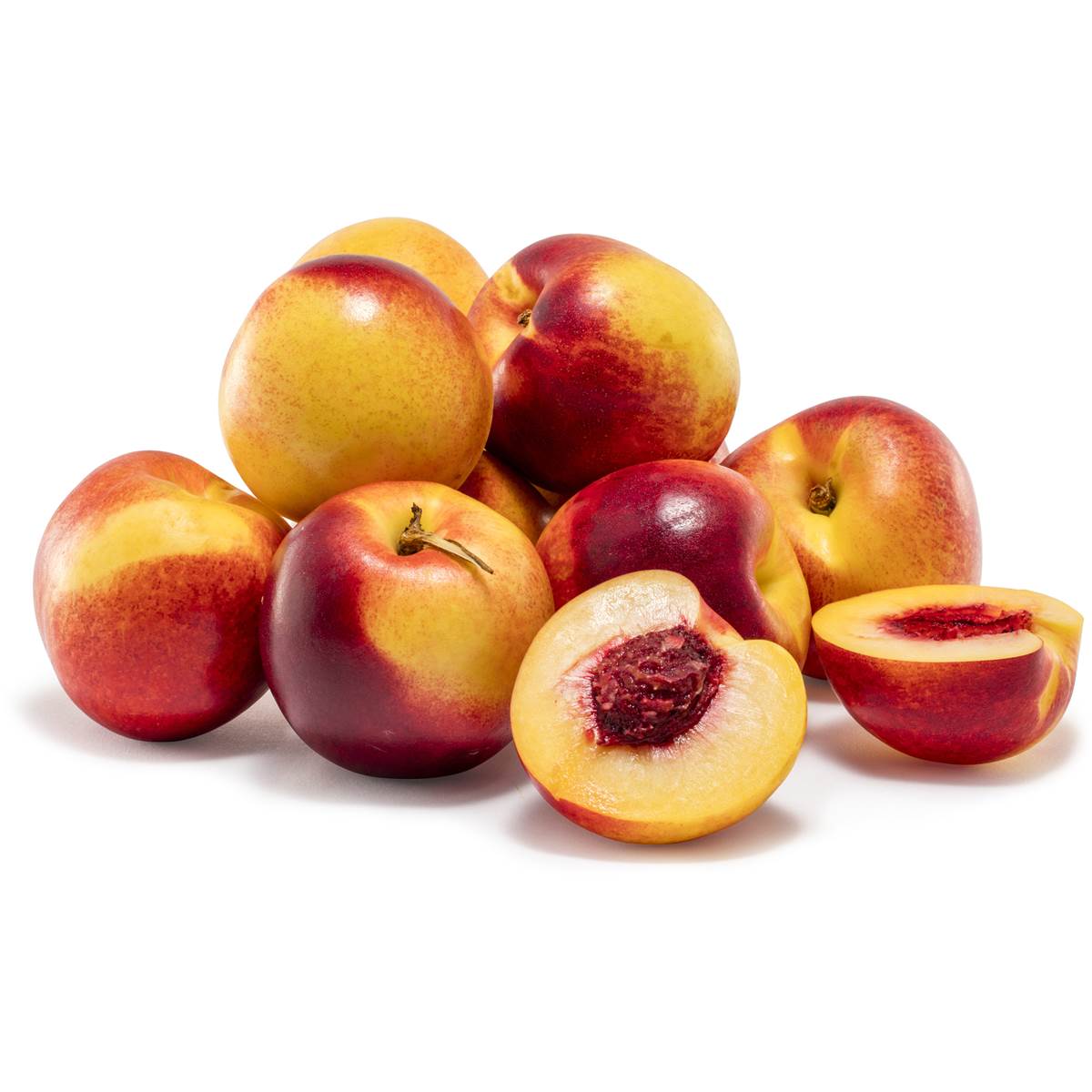 Image gallery
Each link opens a larger version of the image
Yellow Flesh Nectarines each
Product Details
Nectarines are from the same family as peaches, and can be easily distinguished by their smooth skin. They are generally smaller in size than peaches and have either white or yellow flesh, depending on the variety.

What to look for
On the outside, yellow and white nectarines may be identified by their skin color with yellow nectarines having a more prominent red or pink blush than the white fleshed varieties. The flesh of a yellow peach is vibrant yellow and can be quite gold in colour. Being higher in acidity the yellow nectarine has a distinct tartness that begins to mellow as the fruit ripens and softens.
Nectarines should have good colour and be well formed and plump. Whilst a blush is attractive on the fruit, its absence is not an indication of the fruits ripeness or flavour. Fruit should feel firm and when ready to eat will start to yield with gentle pressure. Nectarines that are dull in colour or soft should be avoided as they will be overripe. Fruit that is quite hard or green should also be avoided as this is a sign of immaturity with fruit failing to ripen and develop proper flavour.

Availability
From October to April.

Store
Nectarines are best stored at 0?C with 90-100% relative humidity for 2-6 weeks. Nectarines ripen effectively between 8?C and 25?C, with fruit stored above 25?C ripening too rapidly and becoming overripe within 48 hours.

Ways to eat
Nectarines may be eaten fresh or cooked, with their sweetness an excellent accompaniment to chicken, pork and fish dishes.
Nectarines are also used in many dessert dishes including crumbles, strudels and pies or sliced fresh for use in fruit salads, side salads or as an accompaniment to a cheese platter.