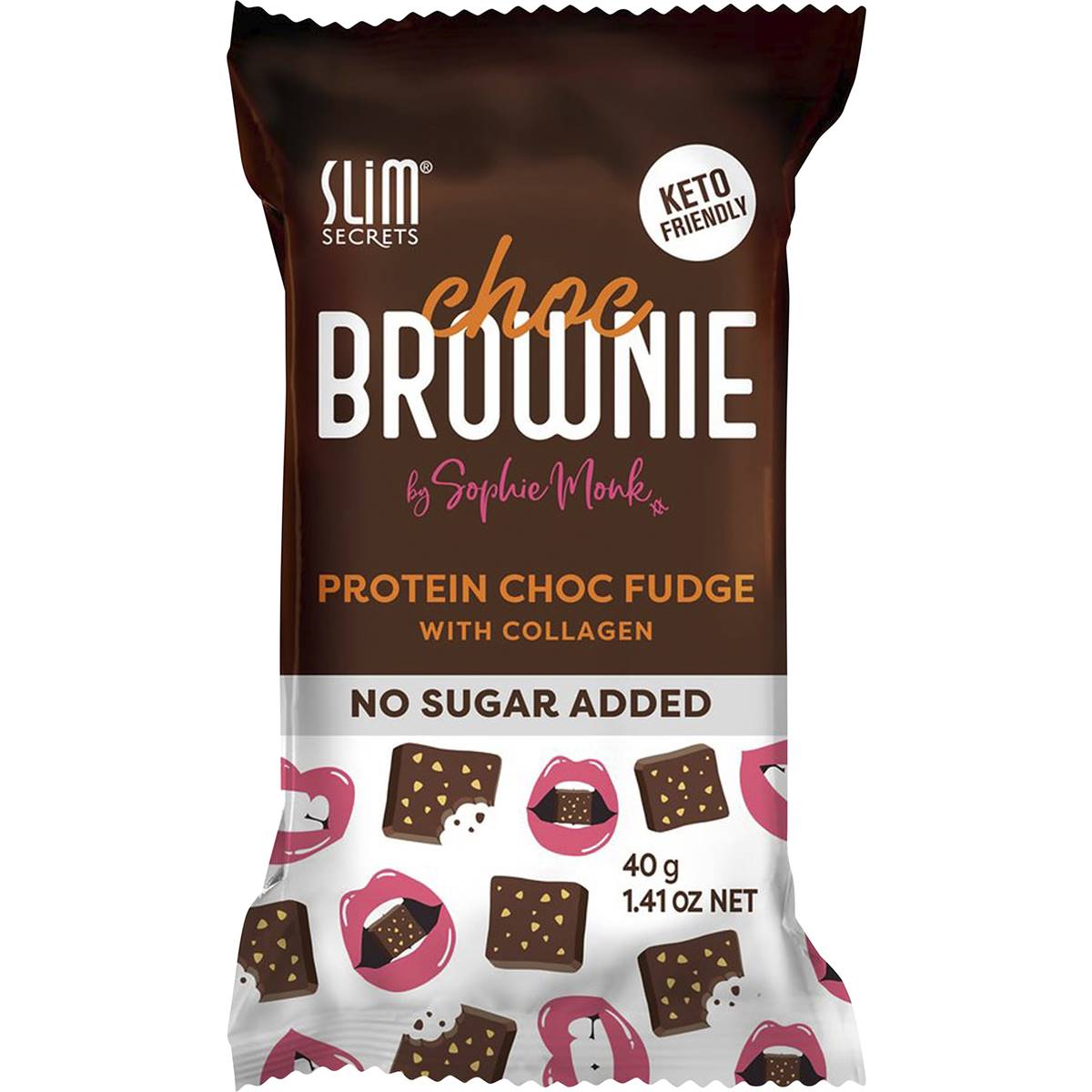 Image gallery
Each link opens a larger version of the image
Slim Secrets Chocolate Brownie Bar 40g
Product Details
Our NEW guilt free and indulgent Choc Fudge Protein Brownie that's keto friendly, low carb, gluten free, has no sugar added and contains collagen to help support healthy hair skin and nails. - Keto friendly - Contains collagen - Good source of protein - Gluten free - Low carb - No sugar added - Source of fibre - No artificial colours or flavours - No GMO ingredients
Ingredients
No sugar added white chocolate contains 20% cocoa solids min. and 20% milk solids min.
Allergen
Egg, Peanuts, Almonds, Soy
Allergen may be present
Tree Nuts, Sesame Seeds, Lupine
Nutrition Information
Serving Size: 40g
Quantity Per Serving
Quantity Per 100g / 100mL
Energy
Approx.706kJ
Approx.1764kJ
Protein
Approx.10.2g
Approx.25.5g
Fat, Total
Approx.11.4g
Approx.28.5g
– Saturated
Approx.6.2g
Approx.15.4g
Carbohydrate
Approx.1.3g
Approx.3.2g
– Sugars
Approx.0.5g
Approx.1.2g
Sodium
Approx.110mg
Approx.275mg
Quantities stated above are averages only. Further nutrition information may be displayed on the product label.
< means Less Than.
- means that the value is not available.
Product Warnings
may contain traces of sesame seeds, lupin or other tree nuts because it shares equipment with other products.