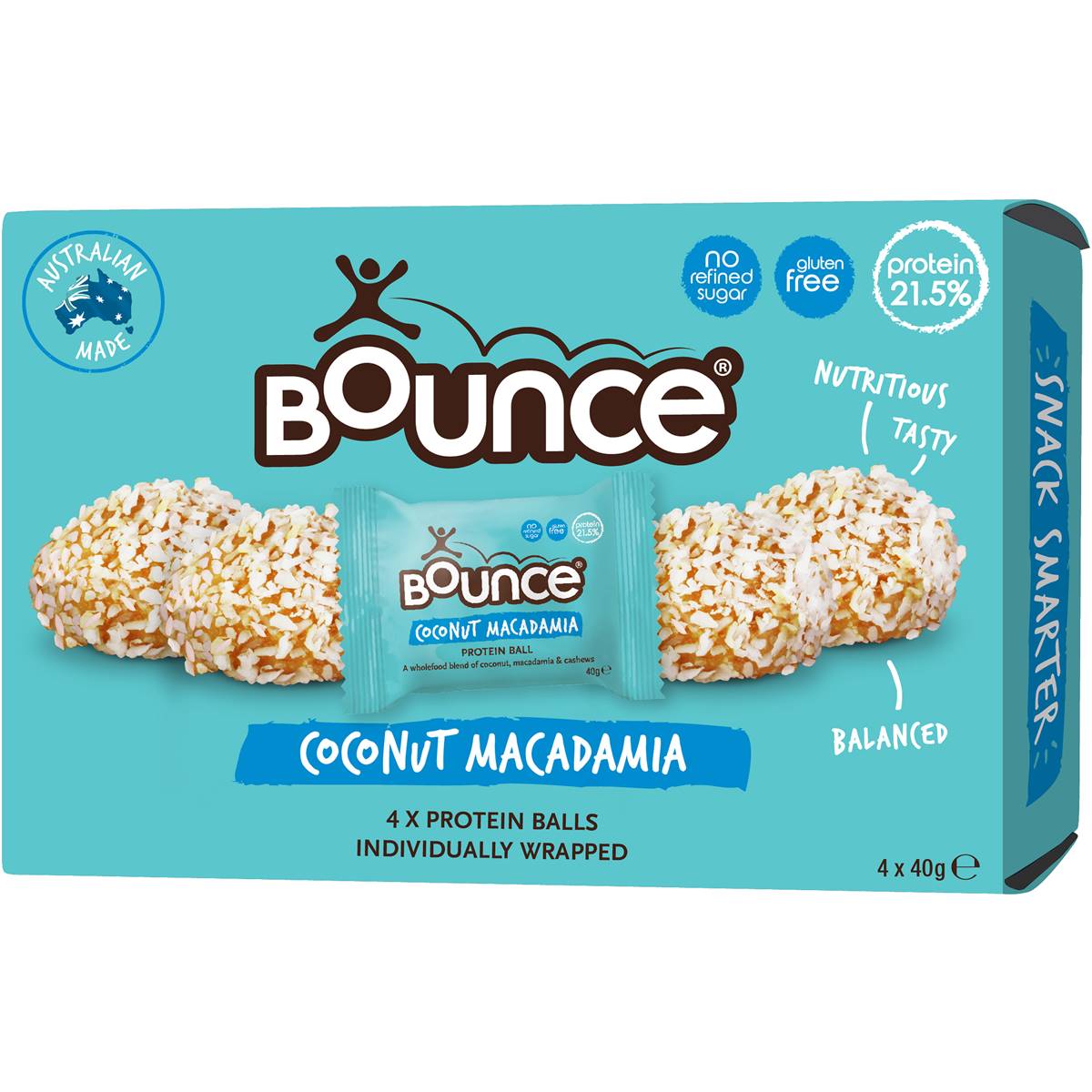 Image gallery
Each link opens a larger version of the image
Bounce Coconut Macadamia Protein Balls 4 Pack
Product Details
Ingredients
Nuts (Cashews 13%, Coconut 8%, Macadamias 5% ), Whey Protein Blend, Organic Agave Syrup, Tapioca Soluble Fibre, Rice Bran, Brown Rice Flour, Vegetable Gum (Guar), Tapioca Starch, Natural Flavours, Vanilla Extract, Sea Salt, Sesame Seeds, Mineral Salt (Calcium Carbonate), Sunflower Lecithin.
Allergen
Tree Nuts, Sesame Seeds, Milk, Cashew Nuts, Macadamia Nuts
Allergen may be present
Peanuts, Tree Nuts, Egg, Soy, Sesame Seeds
Nutrition Information
Servings Per Package: 1
Serving Size: 40g
Quantity Per Serving
Quantity Per 100g / 100mL
Energy
Approx.668kJ
Approx.1670kJ
Protein
Approx.8.6g
Approx.21.5g
Fat, Total
Approx.7.2g
Approx.18g
– Saturated
Approx.2.8g
Approx.7g
Carbohydrate
Approx.11.7g
Approx.29.2g
– Sugars
Approx.7.2g
Approx.18g
Sodium
Approx.92mg
Approx.230mg
Quantities stated above are averages only. Further nutrition information may be displayed on the product label.
< means Less Than.
- means that the value is not available.