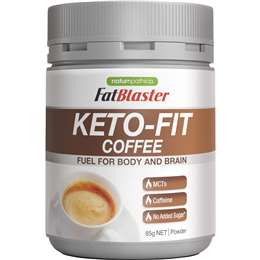 Image gallery
Each link opens a larger version of the image
Fat Blaster Keto Fit Coffee 85g
Product Details
Made exclusively with the finest coffee beans along with high-quality coconut MCTs, Keto-Fit Coffee is a convenient and delicious drink that will charge you with energy and help maximize your weight loss goals in conjunction with a keto diet.
Keto-Fit Coffee may help:
- Increase energy by combining the effects of caffeine and MCTs
- Increase satiety
- Fire up the brain power with quick acting MCTs
- Boost memory and concentration

Who should use this product?
Keto dieters – both beginning and experienced, looking for an easier and better tasting alternative to a bulletproof coffee that is known to boost ketones, energize and satisfy.
Ingredients
Coffee Robusta Powder (60%), Inulin (24.4%), MCT Powder (13%), L-Carnitine (2%), Vanilla flavour, Sweetener (Thaumatin). No Sugar has been added to this product. The ingredients contain naturally occurring sugar.

Sulphites, caffeine and dairy.
Directions
Sir 5g (1 teaspoon) with 250ml of hot water. Consume in the morning to kick start your day, pre-workout or whenever you need a coffee hit.
Product Warnings
Formulated Supplementary Sports Food. Not suitable for children under the age of 15 or for pregnant or lactating women. Not a sole source of nutrition and should be consumed in conjunction with a nutritious diet and physical exercise program. Should be used under medical or dietetic supervision. Do not use if tamper evident seal is broken or missing.