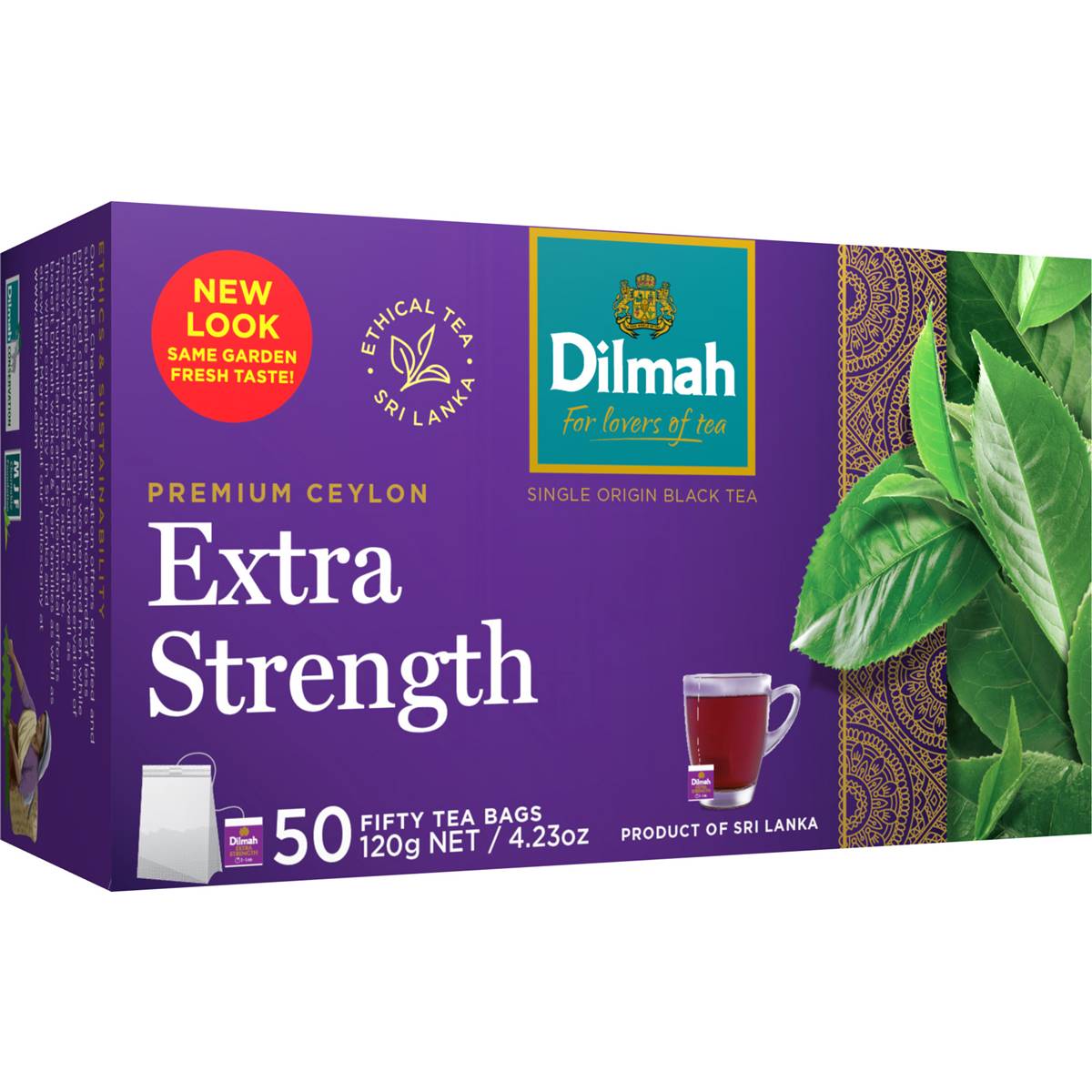 Image gallery
Each link opens a larger version of the image
Dilmah Extra Strength Tea Bags 50 pack
Product Details
Traditional, authentic Ceylon tea, infusing real leaf character & taste, packed at origin, rich in antioxidants.
In Ceylon, a country famous for its tea, there is a tea famous for its taste...Dilmah
Single origin Tea is handpicked and packaged garden fresh in Sri Lanka, right where it is grown. Made in the traditional style of tea making, Perfected over centuries, Dilmah Tea is unblended to celebrate the diverse flavours of Ceylon tea, Blessed with the aspect of terroir. Dilmah Real Tea offers an array of taste, strength and aromas, as varied as the natural climatic factors that make tea from different elevations, regions and estate unique.
Single Origin, 100% pure Ceylon
Dilmah is grown, handpicked and packaged fresh in Ceylon (now Sri Lanka), producer of the world's finest tea. Single Origin guarantees unblended pure Ceylon tea, fresh and full of flavour-faithfully consistent in character and taste.
Packed at Source
packaging within days of picking the tender tea bud and leaves in the tea garden retains freshness and natural goodness.
Family commitment
Dilmah Founder Merrill J. Fernando signs off on every pack of Dilmah tea, as his personal guarantee of its freshness, quality and integrity. Merrill and his two sons Dilhan and Malik (from whose names the brand name was coined) offer aficionados a truly different tea experience.
Traditional Manufacture
Major brands have abandoned the traditional, centuries' old method of making tea for a new "fast track" process, which a sacrifice the character and taste of real tea. Dilmah remains faithful to traditional and authentic tea. That's why Dilmah Tea tastes so different.
Dilmah is the world's first truly ethical tea.
Traders, big and small, dominate the tea industry now Under their control, tea became an ordinary commodity, denying growers of quality tea a fair return & depriving consumers of the quality they enjoyed some years ago. Dilmah is the only global brand owned by tea growers. Dilmah is ethically produced & supplied direct to supermarkets around the world. By supplying direct, profits are retained in Sri Lanka and are shared with workers, the wider community & reinvested in making tea a sustainable industry.
Dilmah founder, Merrill J. Fernando has dedicated over 60 years of his lift to tea. He has mastered the art of tea making. He guides his family business with care, pride and passion.
You can't buy that!!