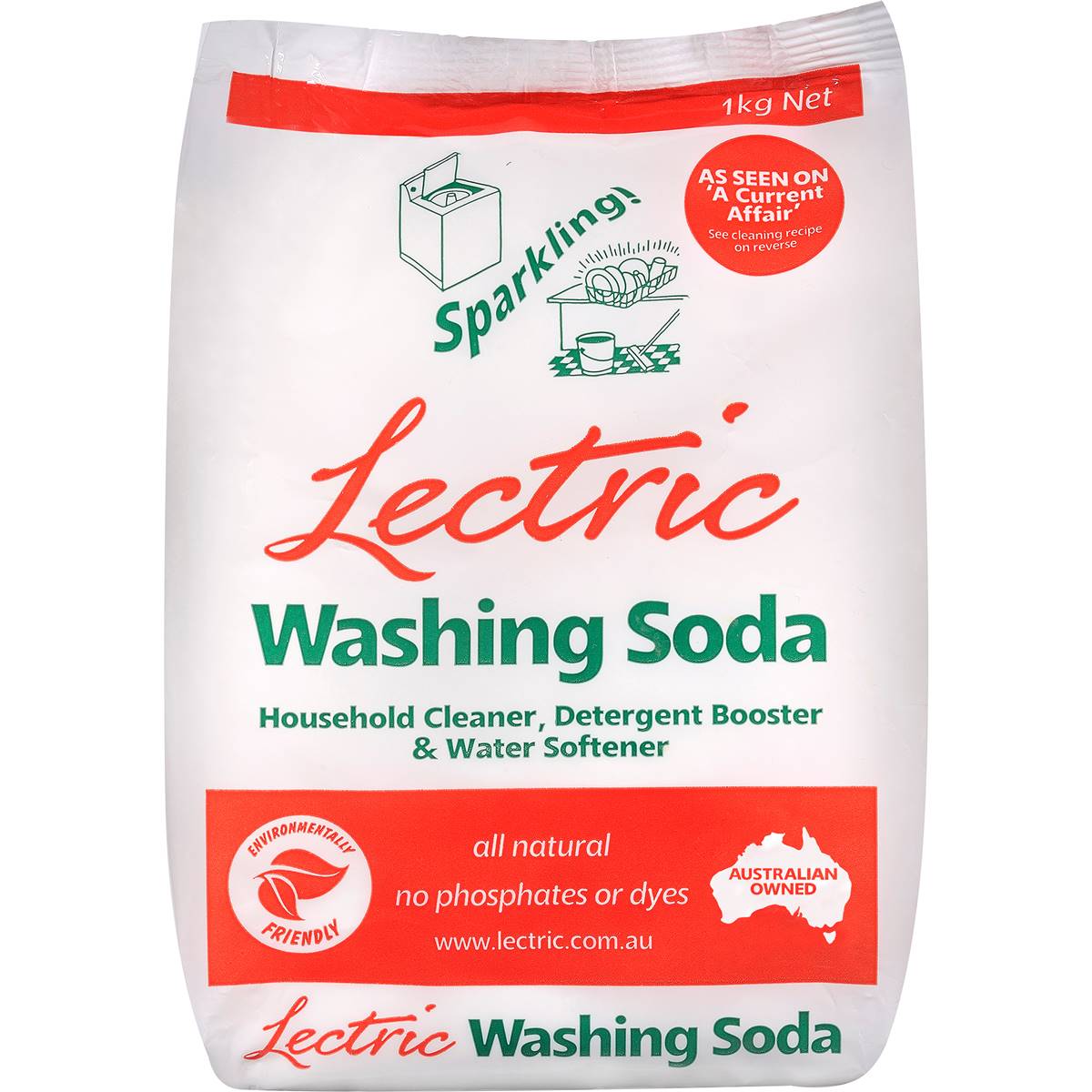 Image gallery
Each link opens a larger version of the image
Lectric Inwash & Soaker Washing Soda 1kg
Product Details
Established over 50 years ago Lectric Washing Soda is tried, tested and most of all trusted. Lectric is dedicated to providing customers with all-natural, effective household cleaning products.Before the advent of modern cleaning products, washing soda was the main product used for doing the laundry and household cleaning. For generations Lectric has been admired for its versatility, value and natural cleaning power. Lectric Washing Soda is made from 100% natural sodium carbonate and contains no phosphates, dyes, colourants or fragrance. It is a great alternative to cleaning products with harsh chemicals.
Lectric does not test products on animals.There are very few cleaning tasks that can't be tackled with Lectric Washing Soda. Use as an all-purpose household cleaner, detergent booster, water softener, or as an ingredient to make your very own miracle spray, as seen on A Current Affair. The opportunities are endless. This great versatility means you spend less money buying different cleaners for different jobs and have much more room in the cupboard under the sink.
Directions
Household Cleaning.

Dilute Lectric Washing Soda in water or use the miracle spray recipe to easily remove grease, grime and dirt all around the home. Visit www.lectric.com.au to view our solution strength guide.

Detergent Booster.

Lectric Washing Soda boosts the effectiveness of all brands of detergent. It makes every wash more powerful, making whites whiter and dishes brighter. Add 1/2 cup to washing machines and 1 tablespoon to dishwashers. Do not use to wash wool or silk.

Silverware.

Dissolve 1 cup of Lectric Washing Soda in 2 litres of hot water and soak for 15 minutes in a bowl lined with aluminium foil. Rinse off and buff.

For more uses and information log on to www.lectric.com.au

Do not use on non-wax floors, lacquered surfaces, aluminium, fibreglass (sinks, tubs and tiles). Do not use for blocked drains. The use of rubber gloves is recommended when using Lectric Washing Soda.
Product Warnings
Keep out of reach of children. If in eyes wash out immediately with water. If swallowed, do not induce vomiting. For advice, contact a Poisons Information Centre. (Phone 131 126) or a doctor.