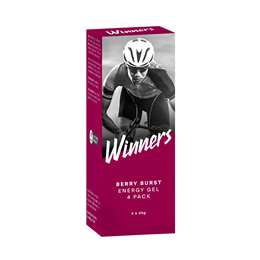 Image gallery
Each link opens a larger version of the image
Winners Energy Gel Berry Burst 4pk 40g
Product Details
Developed in association with cycling champion Cadel Evans, Winners Instant Energy Gels are a great tasting way to quickly replenish energy stores and maintain performance in whatever your exercise.
Winners Instant Energy Gels in Berry Burst provide you with an instant energy boost to counter the effects of sports fatigue.
They Contain:
Carbohydrates – to fuel your body during intense activity
Electrolytes – vital for maintaining fluid balance
Gluten Free
Suitable for Vegetarians
Ingredients
altoddcrin, Filtered Water, Acidity Regulator (Citric Acid (E330)), Mineral Salts (Potassium Chloride, Sodium Chloride), Flavours, Preservative (Sodium Benzoai (E211)).
Nutrition Information
Nutrition
Avg Qty Per 100g
Avg Qty Per Serving
Further nutritional information may be displayed on back of pack.
Product Warnings
Formulated supplementary sports food. Not suitable for children under 15 years of age or pregnant women: should only be used under medical or dietetic supervision. This food is not a sole source of nutrition and should be used in conjunction with a nutritious diet and exercise program. Consume with appropriate fluid intake to avoid the possibility of Gastro Intestinal upset.