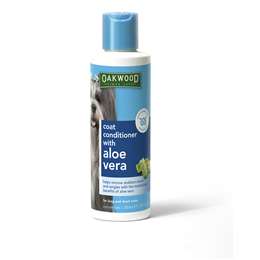 Image gallery
Each link opens a larger version of the image
Oakwood Grooming Conditioner With Aloe Vera 280ml
Product Details
Oakwood Coat Conditioner with Aloe Vera is a premium after-wash coat conditioner to nourish dry coats, providing a tangle-free, shiny finish.
Directions
Immediately after shampooing, apply Oakwood Aloe Vera Coat Conditioner along the back and chest of your pet. Apply to the legs, paws and neck as required. Massage coat conditioner into the coat. Allow to stand for 2 minutes before rinsing out thoroughly with water.
Product Warnings
Avoid contact with eyes and inside of ears.