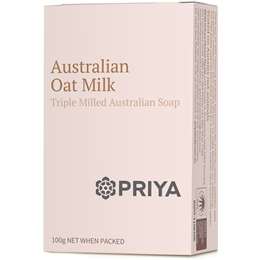 Image gallery
Each link opens a larger version of the image
Priya Soap Body Balance Oat Milk 100g
Product Details
Natural Australian Oat Milk with Vitamin E and 100% Australian Virgin Olive Oil.

Tested on Aussies not animals

Thank you for NOT choosing parabens, petrochemicals, artificial colours, synthetic dyes and genetic modification. Each mindful decision we make benefits our wellbeing. This high quality soap has been triple milled for a smoother, creamier, more luxuriant lather.

Happiness on the inside shines outwards. So when you see our new, bright, thoughtful packaging, know that it is the same Priya soap you've known and loved for years, simply expressing itself to the world.

Pure Oat Milk with whispers of Nutmeg and Brown Sugar in a warm buttery blend.
Ingredients
Sodium Palmate, Sodium Palm Kernelate, Purified Water, Glycerin, Olea Europea (Olive) Oil, Avena Sativa (Whole Oats), Helianthus Annuus (Sunflower) Seed Oil, Tocopheryl Acetate (Vitamin E), Fragrance, Palm Acid, Palm Kernel Acid, Sodium Chloride, Tetrasodium EDTA, Tertasodiun Etidronate.