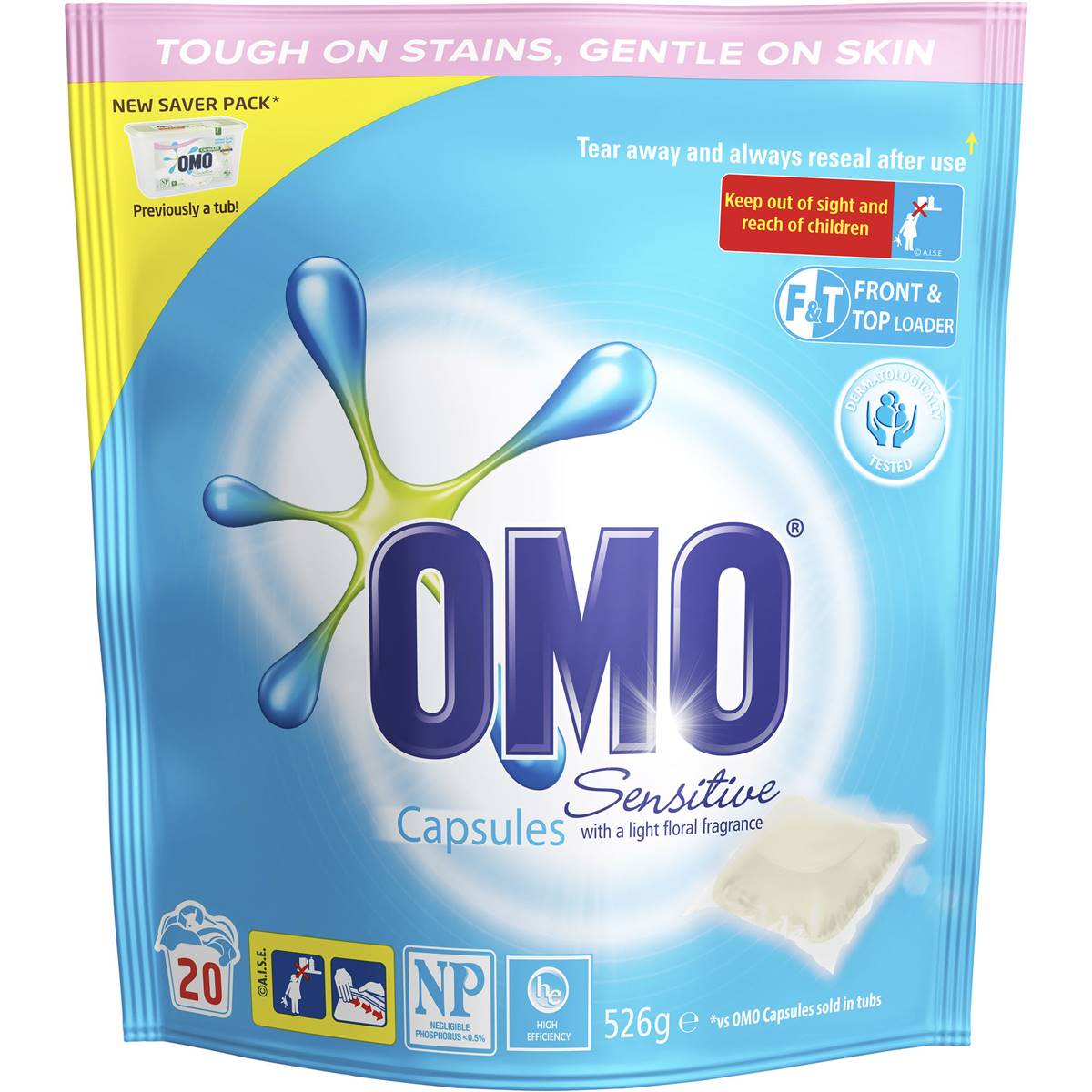 Image gallery
Each link opens a larger version of the image
Omo Sensitive Laundry Liquid Capsules Front &t Op Loader 20 pack
Product Details
OMO LAUNDRY LIQUID UNIT DOSE SENSITIVE 526 GR
Omo Sensitive Laundry Liquid Capsules are dermatologically tested and contain no dyes or perfumes. No mess, no fuss: the laundry capsule leave clothes kind next to sensitive skin.

Omo Sensitive Liquid Washing Detergent Capsules are suitable for all washing machine types - both front loader and top loader - and Omo laundry detergents are recommended by leading washing machine manufacturers for spotless results.

Omo has always been committed to delivering the very best in stain removal and innovation for your laundry. Globally, hundreds of scientists are working on their laundry formulations. These formulations are designed to provide you with outstanding stain removal and clothes care. Whatever Omo washing detergent you choose you can trust Omo can help you make laundry easier.
Omo believes that dirt is good for kids. Why? Because every time kids come back with dirt and stains on their clothes, you know they've had an adventure! Experiential learning through messy play is essential for a child's development. Through experiential learning and messy play, children can explore their interests, develop confidence, and embrace their creativity. The laundry basket can sometimes seem bottomless, but every time we clean our children's clothes we're helping them to go back out there clean, smart, and prepared to take on the world. With Omo around to take care of the toughest stains, you don't have to worry about the laundry.
Laundry can have a big impact on the environment.
Omo Sensitive Capsules are tough on stains & soft on sensitive skin
Omo Sensitive Laundry Detergent is dermatologically tested
Amazing 1st time stain removal with this expert washing detergent
No mess, no fuss laundry capsules leaving clothes kind next to sensitive skin
Laundry detergent recommended by leading Washing Machine Manufacturers
Winner of Readers Digest's 2016 Trusted Brands - Laundry Detergent
Ingredients
Omo Capsules: Anionic and Non-ionic Surfactants, Soap Sequestrant, Polymer and Fragrance. For full ingredient list go to www.uniliver.com.au

This product contains less than 0.5% phosphorus.
Directions
Place 1 capsule in the empty machine towards the back, then add clothes.
(Do not use in dispensing drawer in front loader or high efficiency machines).
- Use 2 capsules for large loads or if clothes are heavily soiled.
Product Warnings
Keep away from children.

Do not ingest.
If swallowed:
- Removes as much product as possible from the mouth.
- Rinse mouth with water.
- Seek medical advice immediately

Damaging to eyes:
If product comes in contact with eyes:
- Immediately flush with water for at least 15 minutes.
- Seek medical advice.

Irritating to skin:
- After use wash and dry hands thoroughly.
- If skin si sensitive or damaged, avoid contact with the liquid or wash solution.

For medical advice call 131 126