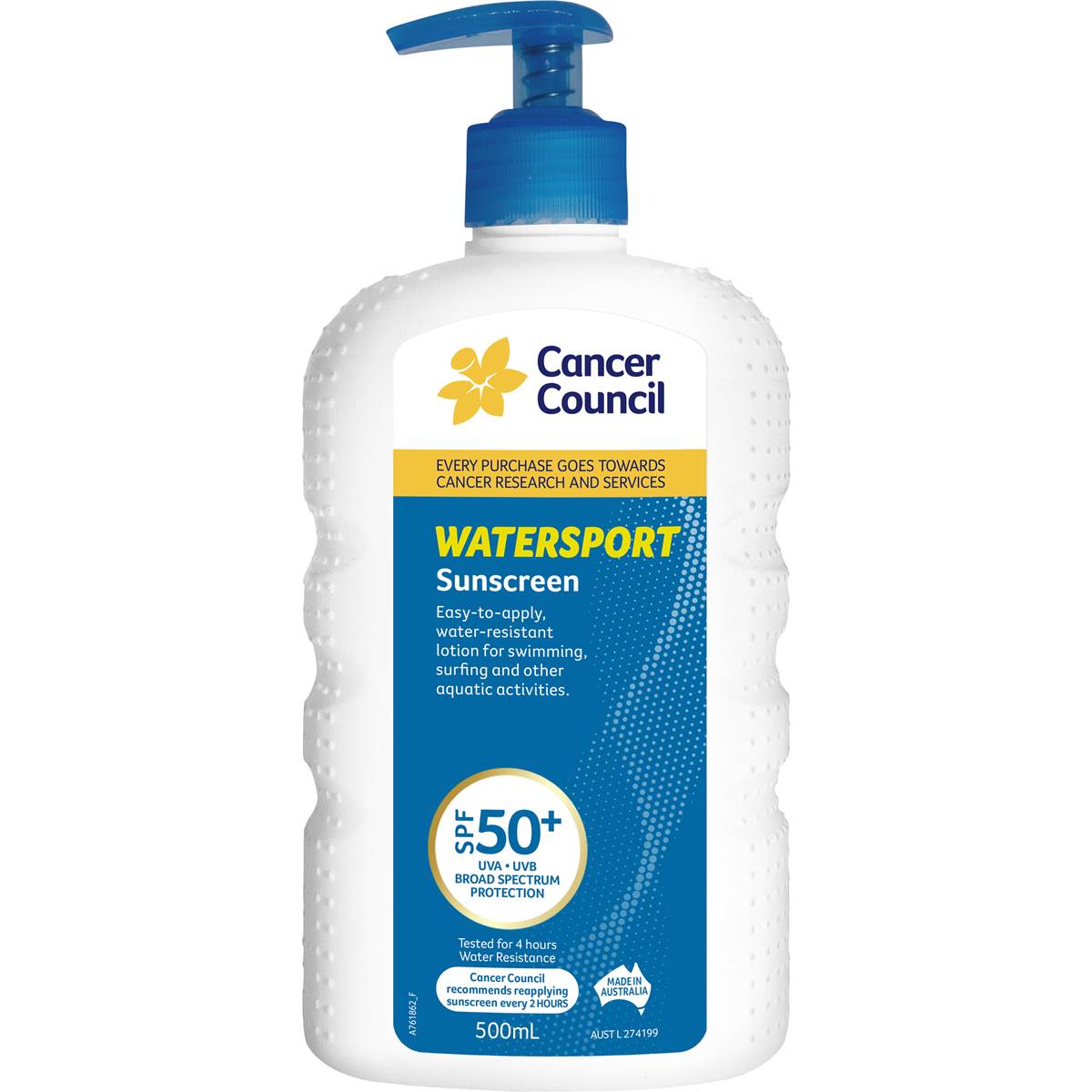 Image gallery
Each link opens a larger version of the image
Cancer Council Watersport Spf50+ Pump 500ml
Product Details
Always read the label. Follow the directions for use. This medicine may not be right for you. Read the warnings on pack before purchase. If symptoms persist, talk to your health professional. Sunscreens are only one part of sun protection. Prolonged high-risk sun exposure should be avoided. Frequent re-application or use in accordance with directions is required for effective sun protection.
•SPF50+ broad spectrum protection•Formulated to be great for water activities•Tested for 4 hours water resistance. Cancer Council recommends reapplying every 2 hours•Made in Australia Directions: Patch Test: When using a sunscreen for the first time, test on a small section of skin first. If irritation occurs, discontinue use. Apply to dry, clean skin and rub in 20 minutes before heading outside. Use 5 methods of sun protection: PROTECTIVE CLOTHING, EYEWEAR/SUNGLASSES, a BROAD-BRIM HAT and SHADE. Apply sunscreen to remaining exposed areas of skin. Avoid prolonged sun exposure and never rely on sunscreen alone, nor to extend your family's time in the sun. For adults, apply at least two full pumps (one teaspoon) of sunscreen to each arm, leg, front of the body, back of the body and face (including the neck and ears). One full body application should be the equivalent of seven teaspoons (35mL). Reapply regularly: Every TWO HOURS and immediately after swimming, sweating or towel drying.
Ingredients
Actives: Homosalate 8% w/w, Octocrylene 6% w/w, Octyl Salicylate 5% w/w, Butyl Methoxydibenzoylmethane 3% w/w, 4-Methylbenzylidene Camphor 2.5% w/w. Preservatives: Phenoxyethanol, Hydroxybenzoates.
Preservatives: Phenoxyethanol, Hydroxybenzoates.
Directions
Apply sunscreen liberally and rub evenly on to the dry skin at least 15-20 minutes before going out into the sun. On an average sized child it is recommended to apply at least 18mL for one full body application. This is equivalent to 1/2 a teaspoon of sunscreen to each arm, leg, front of body, back of body and the face (including ears and neck). Please note that dosage will vary depending on the size of the child. To ensure adequate protection, cancer council recommends all sunscreen be re-applied every two hours or after swimming, exercising and towel drying, Avoid prolonged sun exposure and always wear protection clothing, a broad brim hat and eyewear when out in the sun.
Suitable For:
All skin types.
Storage Instructions:
Store below 30°C.
Product Warnings
Avoid contact with eyes (rinse thoroughly with water if contact occurs). For sensitive skin, test product for any skin irritation on a small area of skin. If skin irritation or rash develops discontinue use and seek medical advice.