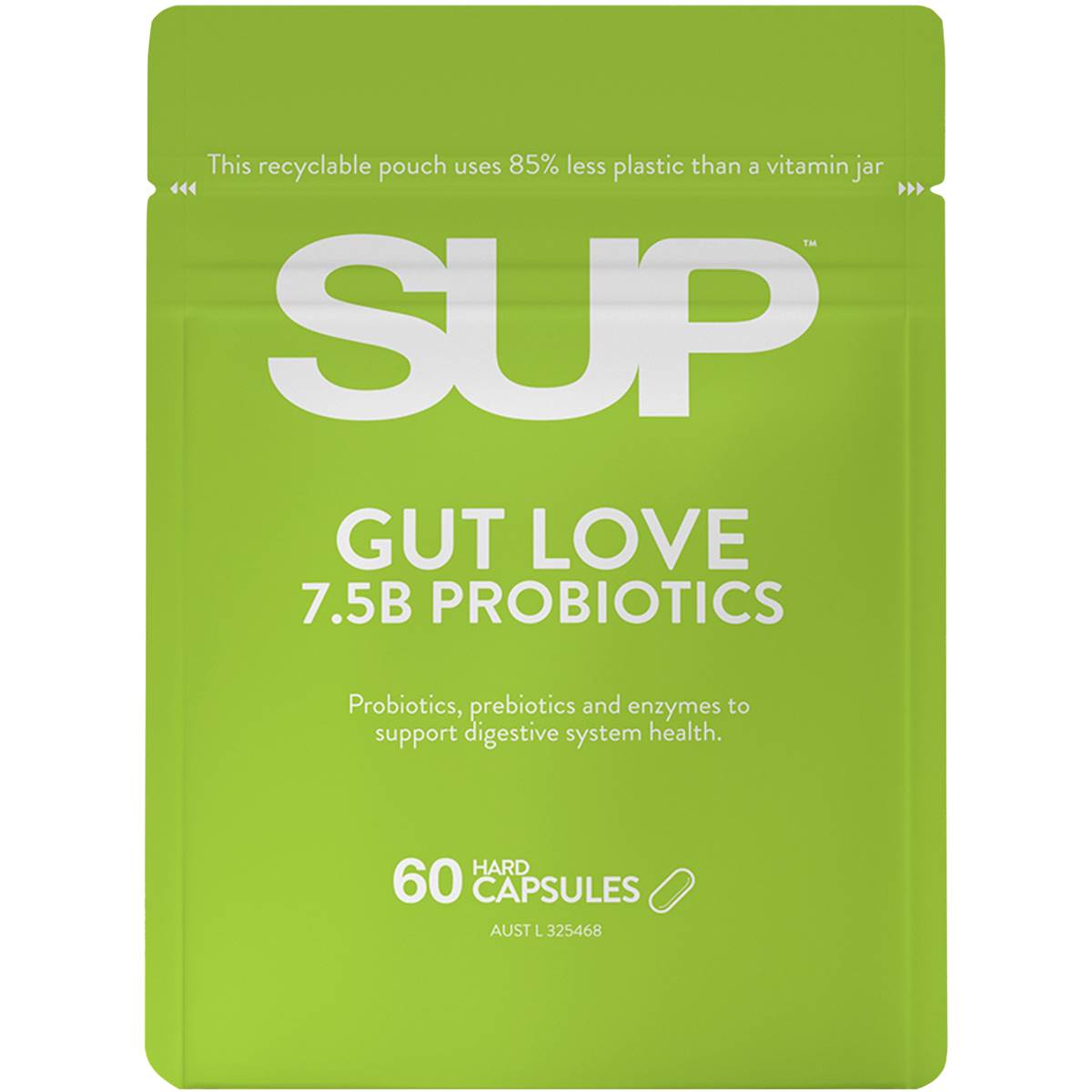 Image gallery
Each link opens a larger version of the image
Sup Gut Love 7.5b Probiotics 60 pack
Product Details
Always read the label. Follow the directions for use. If symptoms persist, talk to you health professional. Do not use product if tamper evident seal is damaged. Reseal immediately after use.
TRUST YOUR GUT!
A healthy digestive system (a.k.a. gut) essentially helps run the show when it comes to your overall general health. In fact, your gut houses approximately 70% of the cells that help make up your immune system, which is why we believe a healthy gut isn't just about high doses of probiotics, it's also about diversity and nourishment.

WHY POP SUP??
SUP? has combined 3 strains of probiotics with nourishing prebiotics and digestive enzymes to help:

- Support immune and digestive system health.
- Restore friendly gut flora.
- Reduce abdominal bloating.
- Relieve digestive discomfort

REDUCE.RECYCLE.RESUP.
At SUP? we are on a mission to not just improve the health of people but the health of the planet. *Our pouches use 85% less plastic than a traditional vitamin jar. We encourage everyone to utilise our RESUPs to help us reduce waste and join us on our sustainability journey.
Ingredients
Lactobacillus plantarum 1Billion CFU
Lactobacillus acidophilus 1Billion CFU
Lactobacillus paracasei 5.5Billion CFU
Total 7.5Billion CFU
Inulin 25mg
Papain 1mg
Amylase 100 DUAA
Lipase 80 LipU
Directions
For general and digestive health take 1 hard capsule daily. To complement antibiotic use take 1 hard capsule 2 times daily (2 hours from antibiotics).
Storage Instructions:
Store below 25deg C.