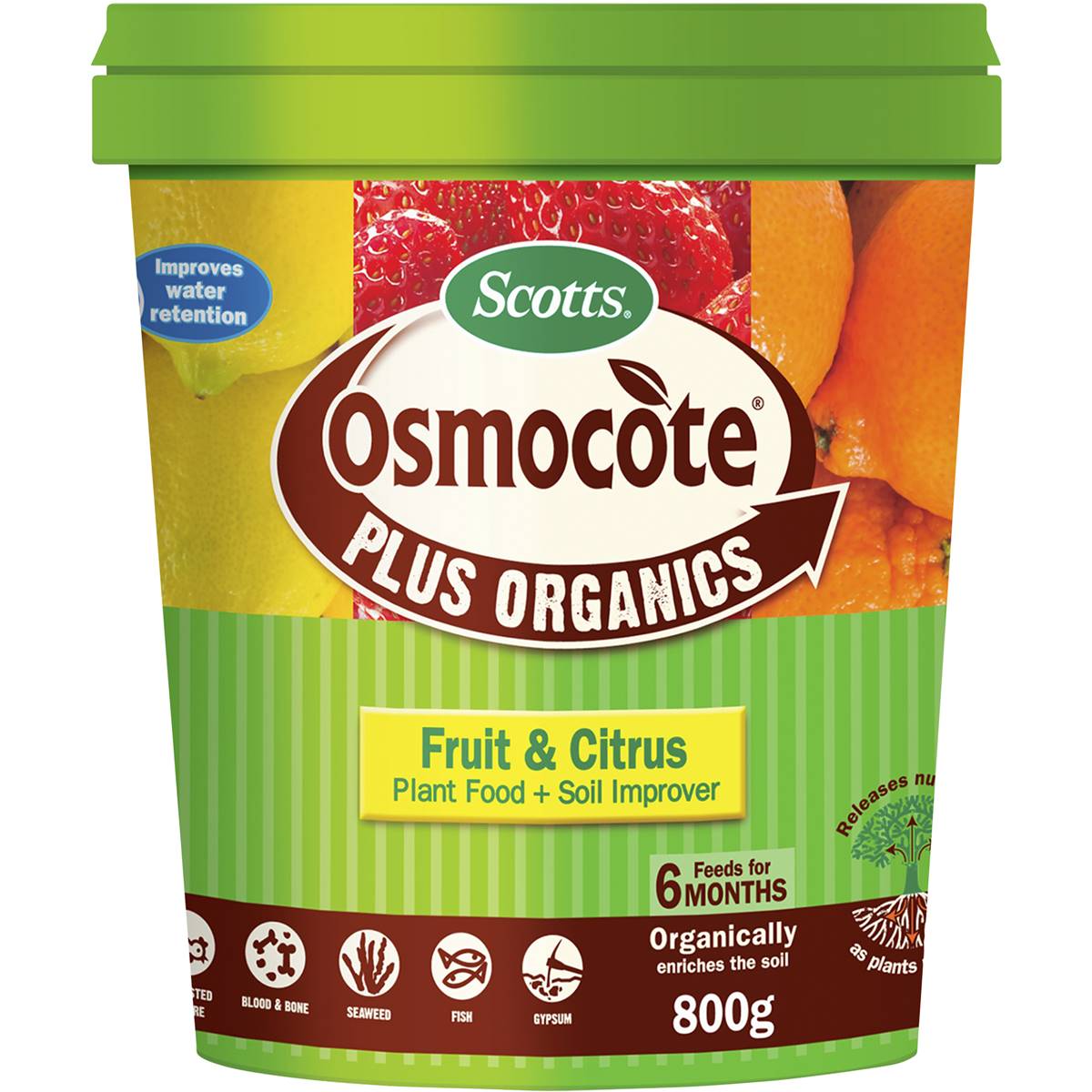 Image gallery
Each link opens a larger version of the image
Scotts Osmocote + Organics Fruit & Citrus 800g
Product Details
A plant food and soil improver designed all fruit trees including citrus which combines the best of both worlds. Scotts Osmocote® Plus Organics nurtures plant growth both above and below the ground and by creating a balanced and sustainable growing environment, plants are healthier, stronger and less susceptible to insect attacks and diseases, season after season.
Osmocote® Plus Organics plant foods consist of blends of organic compounds, controlled release nutrients, a wetting agent and gypsum to improve plant health and condition the soil for up to 6 months. The low-odour formulation contains a natural smell-reducing agent.

Added organic matter such as composted manure, blood and bone, seaweed and fish that organically enrich the soil and encourage beneficial microbial and earthworm activity while the original Osmocote® prills release nutrients as your plant needs them. The added organics produce plants that are healthier and less susceptible to insect attacks and disease.
Directions
Where to apply:
•Fruit trees and flowering trees
oRate: 3 handfuls per m2 under tree area
oHow to apply at planting: Mix into the backfill soil. Do not place in the bottom of the planting hole, established plants: Dig in around the dripline.

•Potted Plants
oRate: 30cm pot / 3/4 handful, 40cm, pot / 1 1/2 handfuls, 60cm pot / 2 handfuls, 90cm pot / 3 handfuls
oHow to apply at planting: Mix through the potting mix. Established plants: Apply evenly over the surface of the potting mix or mix through when repotting.

IMPORTANT- Water in thoroughly after each application and ensure the product is washed off the foliage.