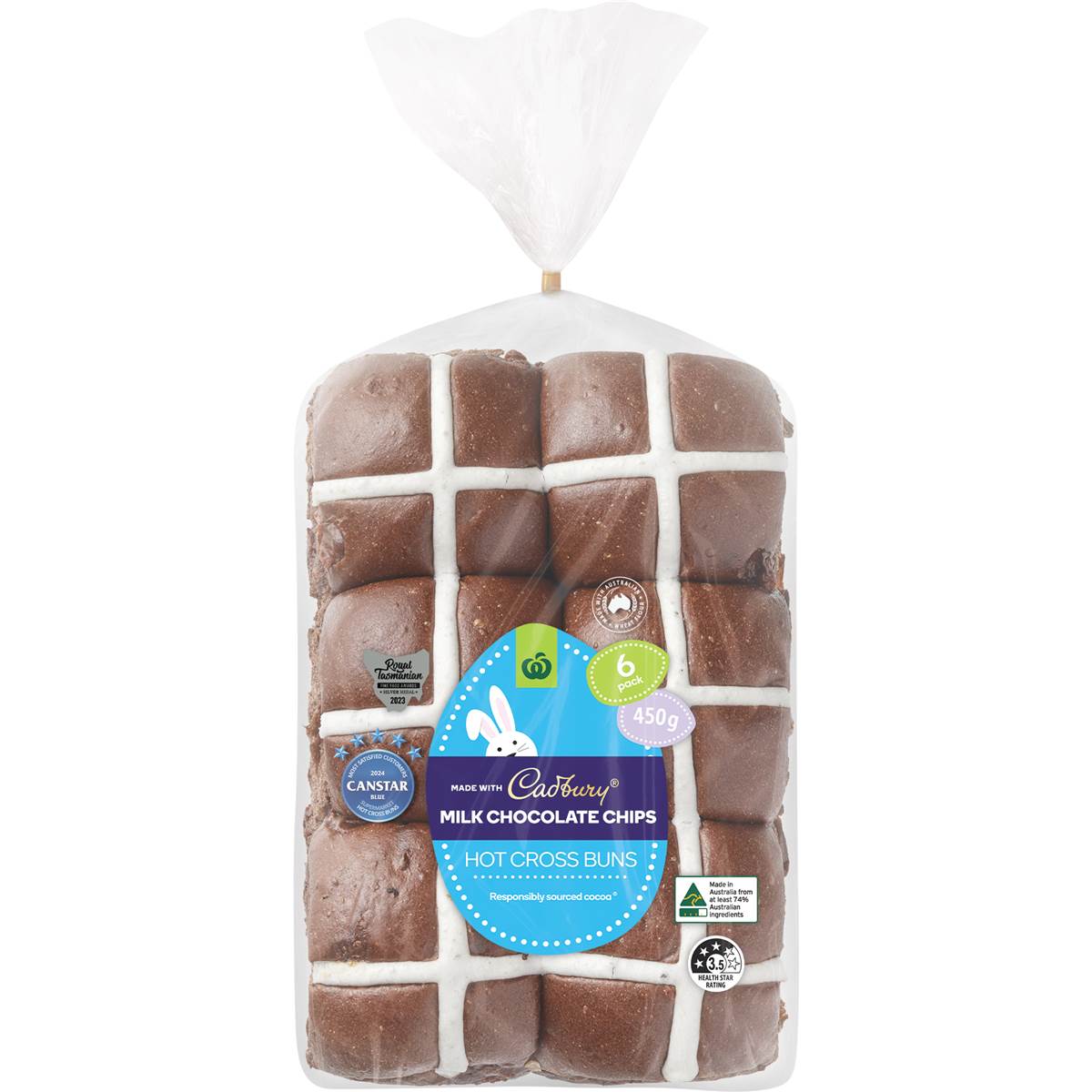 Image gallery
Each link opens a larger version of the image
Woolworths Cadbury Chocolate Chip Hot Cross Buns 6 pack
Product Details
Woolworths Choc Chip Hot Cross Buns have yummy choc chips in soft buns made with Australian flour.
Easter isn't complete without freshly baked hot cross buns, but there's no reason why you can't enjoy them all the time.
Here are our best hot cross bun tips and tricks
Rich with spices and fruit, hot cross buns are best eaten fresh out of the oven or enjoyed over the next few days toasted and topped with lashings of butter. Take hot cross buns to the next level and top with whipped cream, fresh fruit, maple bacon, ice cream or melted chocolate for a truly decadent treat, or
see our scrumptious recipe suggestions
Ingredients
Wheat Flour (Vitamins (Thiamin, Folate)), Cadbury Milk Chocolate (19.5%) (Sugar, Milk Solids, Cocoa Butter, Cocoa Mass, Emulsifiers (322 (Soy), 476), Flavours), Water, Sugar, Cocoa Powder (3.5%), Yeast, Canola Oil, Wheat Starch, Wheat Gluten, Emulsifiers ((322 (Soy), 471, 475), Acidity Regulators (260, 262)), Glaze, Iodised Salt, Thickener (415)
Allergen may be present
Peanuts, Tree Nuts, Egg, Sesame Seeds
Nutrition Information
Nutrition
Avg Qty Per 100g
Avg Qty Per Serving
Energy
Approx.1320kJ
Approx.986kJ
Protein
Approx.8.7g
Approx.6.5g
Fat, total
Approx.8.8g
Approx.6.6g
– saturated
Approx.4.3g
Approx.3.2g
Carbohydrate
Approx.48.2g
Approx.36.2g
– sugars
Approx.17g
Approx.12.8g
Sodium
Approx.192mg
Approx.144mg
Further nutritional information may be displayed on back of pack.
Ratings and Reviews
Reviews (1)
The following review was submitted by: aussiebec who gave this product 3 out of 5 stars.
Passable hot cross buns. As a non-fan of the original/traditional fruit peel included hot cross buns, I was super excited when Woolies brought out choc chip (and I could've sworn they've had mocha before but I'm yet to see any this year) flavor, especially in the little/smaller size. I don't know whether they've changed the recipe this year but to be honest, my husband & I found them quite bland and not particularly chocolatey. We still ate them all mind you, just don't currently find them comparable to the equivalent HCB put out by Bakers Delight or even Coles.
the 20th of 2019