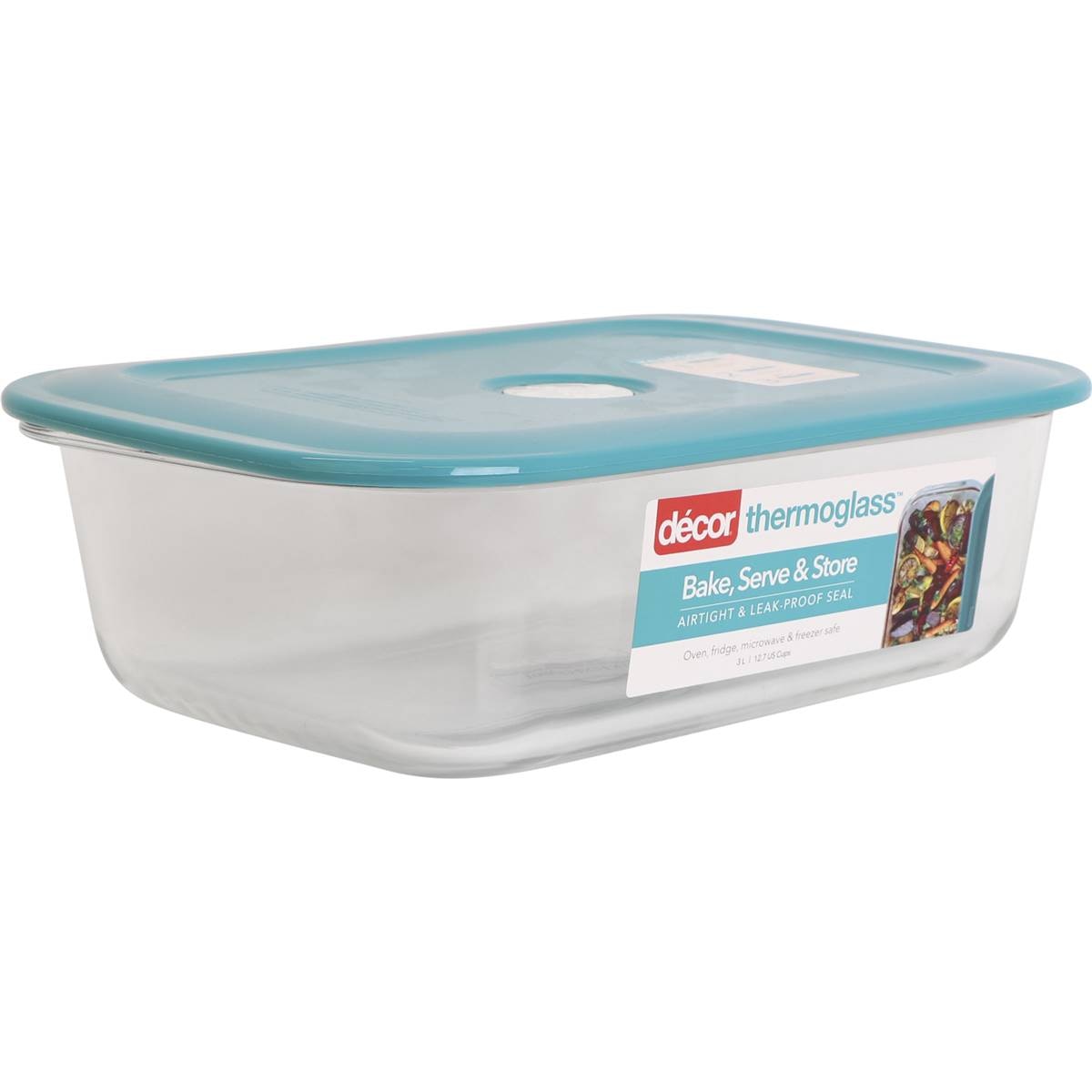 Image gallery
Each link opens a larger version of the image
Decor Thermoglass Baking Dish Realseal 3l
Product Details
Thermoglass Baking Dish is made from premium heat-resistant borosilicate glass making it strong and oven safe. The dishes, without the lids, can be used in a conventional oven. The realseal lid, which has a steam/air release vent, allows use of the Thermoglass dishes in the microwave for convenient cooking and reheating. The soft silicone seal in the lid makes the dishes airtight and leakproof, so prepared meals or leftovers can be stored in the fridge and freezer. • Premium heat-resistant borosilicate glass. • Steam/air release vent. • Airtight and leak-proof. • Dishwasher safe. • Freezer safe. • BPA Free
Directions
Microwave use Before microwaving, apply lid with vent open to release steam during cooking. After removing the dish from the microwave, leave the vent open while the food is very hot to allow it to rest. If storing let the food cool then close vent. Microwaving foods high in sugar, fat, tomatoes or curries may mark or stain the silicone seal, but will not affect its usability. After oven cooking, ensure that the Thermoglass dish cools before covering with the Realseal lid. Do not use the Realseal lid in a conventional oven.
Cleaning
Thermoglass dishes with Realseal lids are dishwasher safe - do not scrub with harsh or abrasive scourers or cleaners. The silicone seal and air release button can be easily removed for cleaning when required. Always allow a hot Thermoglass dish to cool before washing or rinsing (including in a dishwasher), refrigerating or freezing.
Product Warnings
Failure to heed these warnings or follow the instructions in this leaflet may cause you or someone in your kitchen to be seriously injured, or may cause your Thermoglass dish to break immediately or later. Always handle a hot Thermoglass dish with dry potholders or Decor oven mitts with silicone grips. Do not handle a hot Thermoglass dish with a wet towel, wet potholder or other wet cloth.
Be careful when handling broken glass.
Broken glass pieces may be extremely sharp and difficult to locate wear gloves and shoes when cleaning up broken glass. Temperature changes
Avoid sudden and severe temperature changes. Prior to cooking foods that release liquids while baking, add a small amount of liquid to the Thermoglass dish (whether in an oven or in a microwave). Do not add liquid to a hot Thermoglass dish.