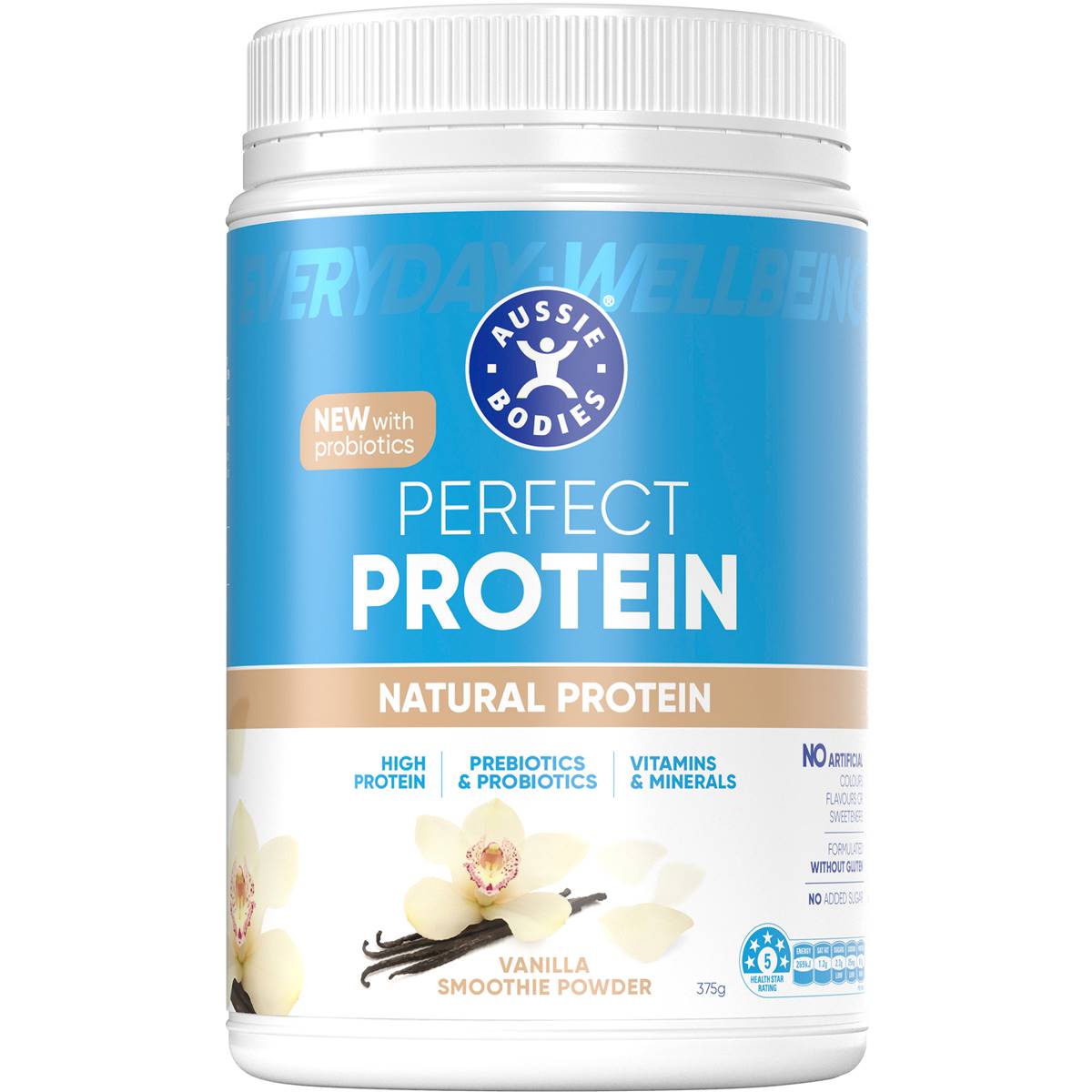 Image gallery
Each link opens a larger version of the image
Aussie Bodies Perfect Protein Vanilla Powder 375g
Product Details
More than just for gym-junkies on a quest for bigger biceps – protein is vital for a healthy mind and body. Our Perfect Protein is not only an exceptional protein powder, but it's 100% natural and gluten free! Just add milk or water for a convenient, healthy breakfast on-the-go, a snack in-between meals, or a post workout shake. Perfect Protein is formulated with the right nutrients you need to achieve your fitness goals – and keep you looking and feeling great!
Ingredients
Aussie Bodies Protein Blend [93%) [Whey Protein Concentrate, Whey Protein Isolate, Emulsifier [Sunflower Lecithin, Soy Lecithin]. Sweeteners (Xylitol, Steviol Glycosides], Flavour, Minerals [Calcium Gluconate, Calcium Lactate].

Milk and Soy Products.
Nutrition Information
Nutrition
Avg Qty Per 100g
Avg Qty Per Serving
Energy
1700kJ
Per serving:638kJ, With 250mL skim milk: 1050kJ
Protein
37.9g
Per serving:28.1g, With 250mL skim milk: 37.9g
Fat, total
2.7g
Per serving:2.4g, With 250mL skim milk: 2.7g
– saturated
2.0g
Per serving:1.7g, With 250mL skim milk: 2.0g
Carbohydrate
16.6g
Per serving:3.0g, With 250mL skim milk: 16.6g
– sugars
15.8g
Per serving:2.3g, With 250mL skim milk: 15.8g
Sodium
171mg
Per serving:50mg, With 250mL skim milk: 171mg
Further nutritional information may be displayed on back of pack.
Directions
Add 375g [1 1/2 scoop] to 20mL of skim milk, water or juice and shake or blend until mixed.ÿ
Product Warnings
Product will settle over time. Shake container before use.
High Quality Protein is vital for a healthy mind & body
Natural Sweeteners delivering a natural sweetness without the excess kilojoules.