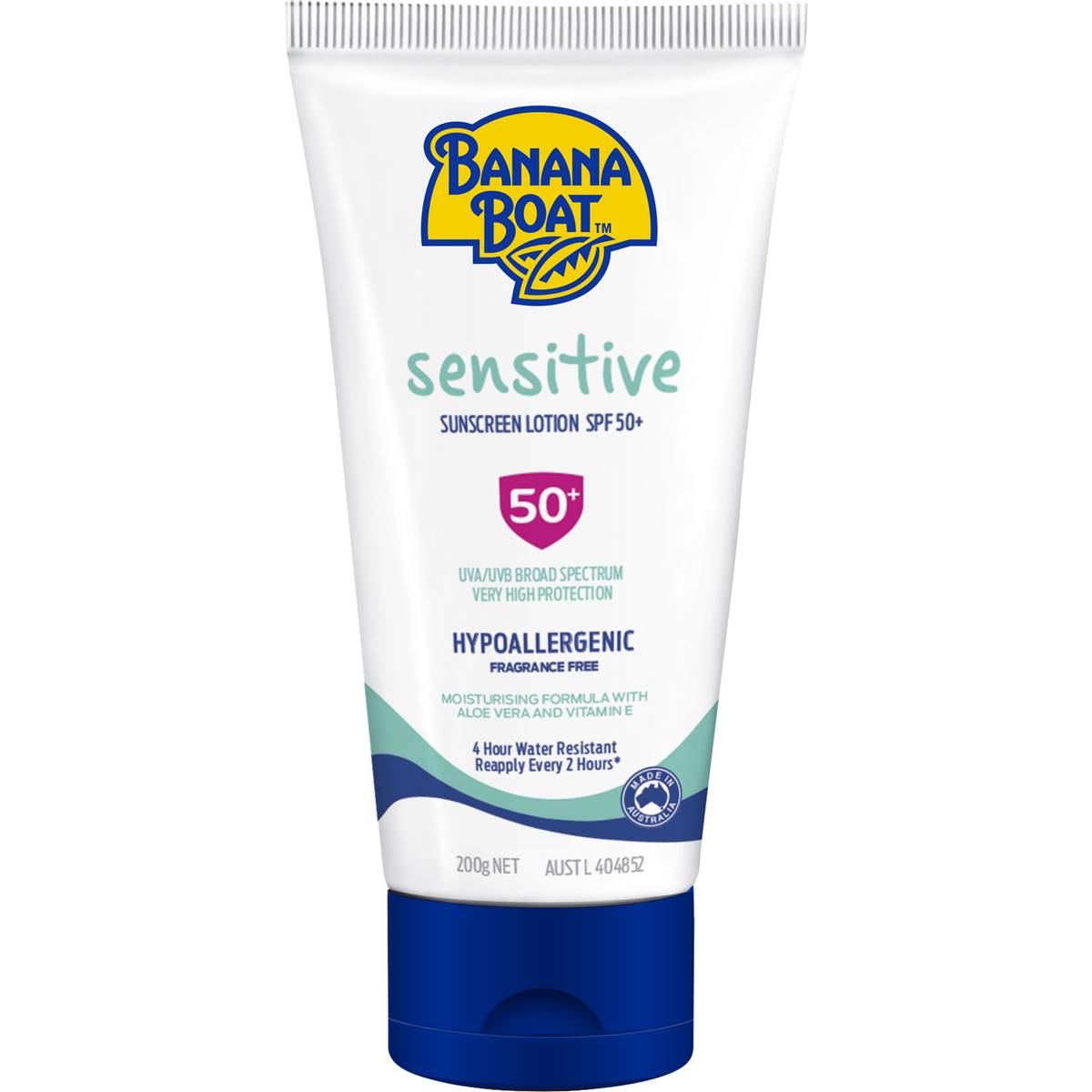 Image gallery
Each link opens a larger version of the image
Banana Boat Spf 50+ Sunscreen Sensitive 200g
Product Details
Always read the label. Follow the directions for use. This medicine may not be right for you. Read the warnings on pack before purchase. If symptoms persist, talk to your health professional. Sunscreens are only one part of sun protection. Prolonged high-risk sun exposure should be avoided. Frequent re-application or use in accordance with directions is required for effective sun protection.
Banana Boat® Daily Protect Sensitive Lotion is fragrance free, non-greasy and gentle.
SPF 50+ broad spectrum UVA/UVB protection
Our most advanced protection for your sensitive skin
Tested for 4 hours water resistance
Fragrance free & gentle
Non-greasy
Ingredients
Preservatives: Phenoxyethanol, Hydroxybenzoates
Directions
Apply liberally ?? always use about 7 teaspoons per application!
Always apply 20 minutes before you head into the sun and allow to dry.
Reapply, reapply, reapply! Every 2 hours (or more often after swimming, using a towel or sweating).

Cover up with a hat, long-sleeved shirt and sunnies.
Stay cool, and find shade especially between 10am-3pm.

Daily Use.
Product Warnings
For external use only. Avoid contact with eyes. If irritation or rash appears, discontinue use. Consult a doctor for use on babies under 6 months of age. May stain certain surfaces and fabrics.
Keep out of reach of children.

Avoid prolonged exposure to the sun. Wearing protective clothing, hats & eyewear important.

This product can aid in the prevention of premature aging of skin exposed to the sun, and may assist in the prevention of some skin cancers.