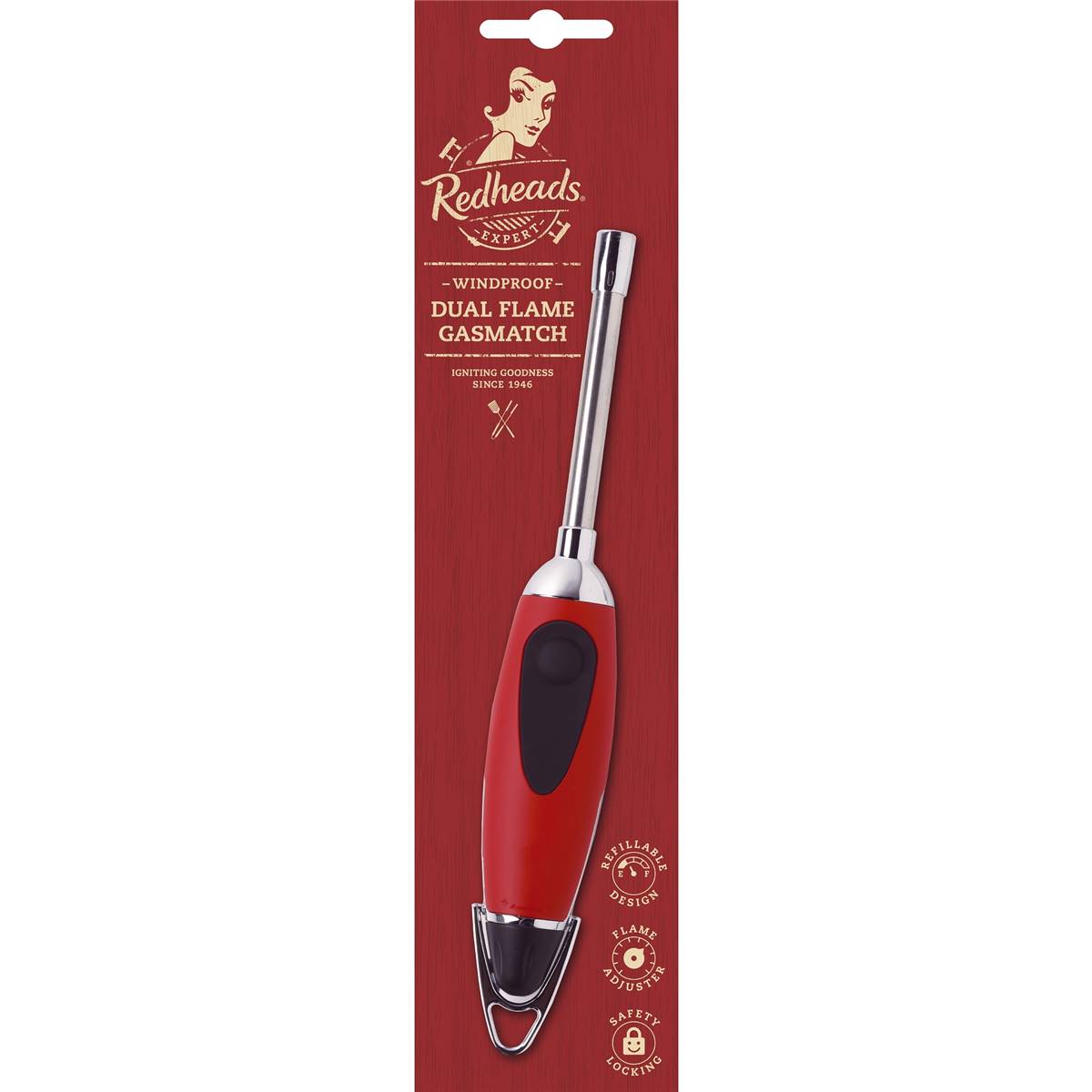 Image gallery
Each link opens a larger version of the image
Redheads Bbq Accessory Dual Flame Gasmatch Each
Product Details
Redheads Dual Flame Gasmatch lights and stays lit in windy conditions. It is reliable, safe and ideal for both indoor and outdoor use. It's adjustable and windproof flame, ergonomic grip and twin button safety action makes lighting easy and safe. The gas Indicator window also makes refilling a breeze.
Dual, Windproof Flame
Long Neck Reach
Ignition Button
Safety Button
Ergonomic Rubber Grip
Gas Level Window
Flame Height Adjustor
Filling Valve
Hanger.
Directions
Please refill only with Butane gas. Expose Gasmatch filling valve at base. Hold firmly, insert refill into valve, applying an even downward pressure. Use the gas indicator window to judge when the Gasmatch is full.
Product Warnings
Keep away from children ignite away from face and clothing. Do not use to light cigarettes, cigars or pipes. Be sure flame is out after use. Never expose to heat above 50C or to prolonged sunlight. Never puncture or put in fire. Extreme heat is present above visible fame. Extra care should be taken to prevent burn. Injury or fire. Follow all instructions and warnings provided by grill or other appliance manufacturer when using this product. Do not keep it for more, than 30 seconds. After refilling, wait 2 minutes before using lighter. When filled, contains flammable gas under pressure.