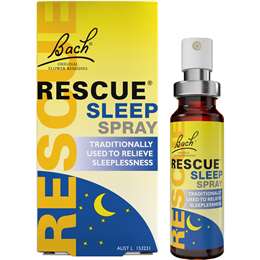 Image gallery
Each link opens a larger version of the image
Rescue Remedy Sleep Liquid Spray 20ml
Product Details
Always read the label. Follow the directions for use. This medicine may not be right for you. Read the warnings on pack before purchase. If symptoms persist, talk to your health professional.
RESCUE® Sleep
A combination of the 5 Bach? Original Flower Remedies contained in RESCUE® Remedy, plus the Bach? Original Flower Remedy of White Chestnut.
RESCUE® Sleep can help with a natural nights sleep when your mind won?t switch off from unwanted repetitive thoughts ? preventing you from falling asleep. Those unwanted repetitive thoughts are often directly linked to unfulfilled and stressful events which may have happened during the day, or are due to take place the following day such as financial issues, an important presentation, a job interview, your little ones first day at a new school, the apprehension brought on by your wedding day or an upcoming flight.
Whatever the thoughts preventing you from switching off at night time might be, now that there is RESCUE® Sleep, you can look forward to waking up refreshed and energised in the morning and more importantly, be ready to face the day ahead!
These flower essences combine to help you enjoy a natural nights sleep:
Rock Rose ? for terror and panic
Impatiens ? for irritability and impatience
Clematis ? for inattentiveness
Star of Bethlehem ? for shock
Cherry Plum ? to promote calmness and mental clarity
White Chestnut ? to help switch off the mind from unwanted repetitive thoughts

RESCUE® Sleep suitable for the whole family, vegan friendly and non-drowsy.

Always read the label and use only as directed. If symptoms persist, consult your healthcare professional.
Ingredients
152uL/mL (equivalent to 15.2ug/mL of fresh plant) of each Rock Rose(Helianthemum nummularium) tincture, Impatiens(Impatiens glandulifiera0 tincture, Clematis(Clematis vitalba) tincture, Star of Bethlehem (Ornithogalum umbellatum) tincture, Cherry Plum(Prunus cerasifera) tincture and 238uL/ML(equivalent to 23.8uL/mL of fresh plant)of white Chestnut(Aesculus hippocastanum)tincture. Made by the original Bach methods. .

Contains homeopathic ingredients Contains ethanol
Directions
Active the spray pump before use. Bring spray nozzle up to mouth and apply 2 sprays on the tongue. Repeat as necessary. If symptoms persist, consult your healthcare practitioner.