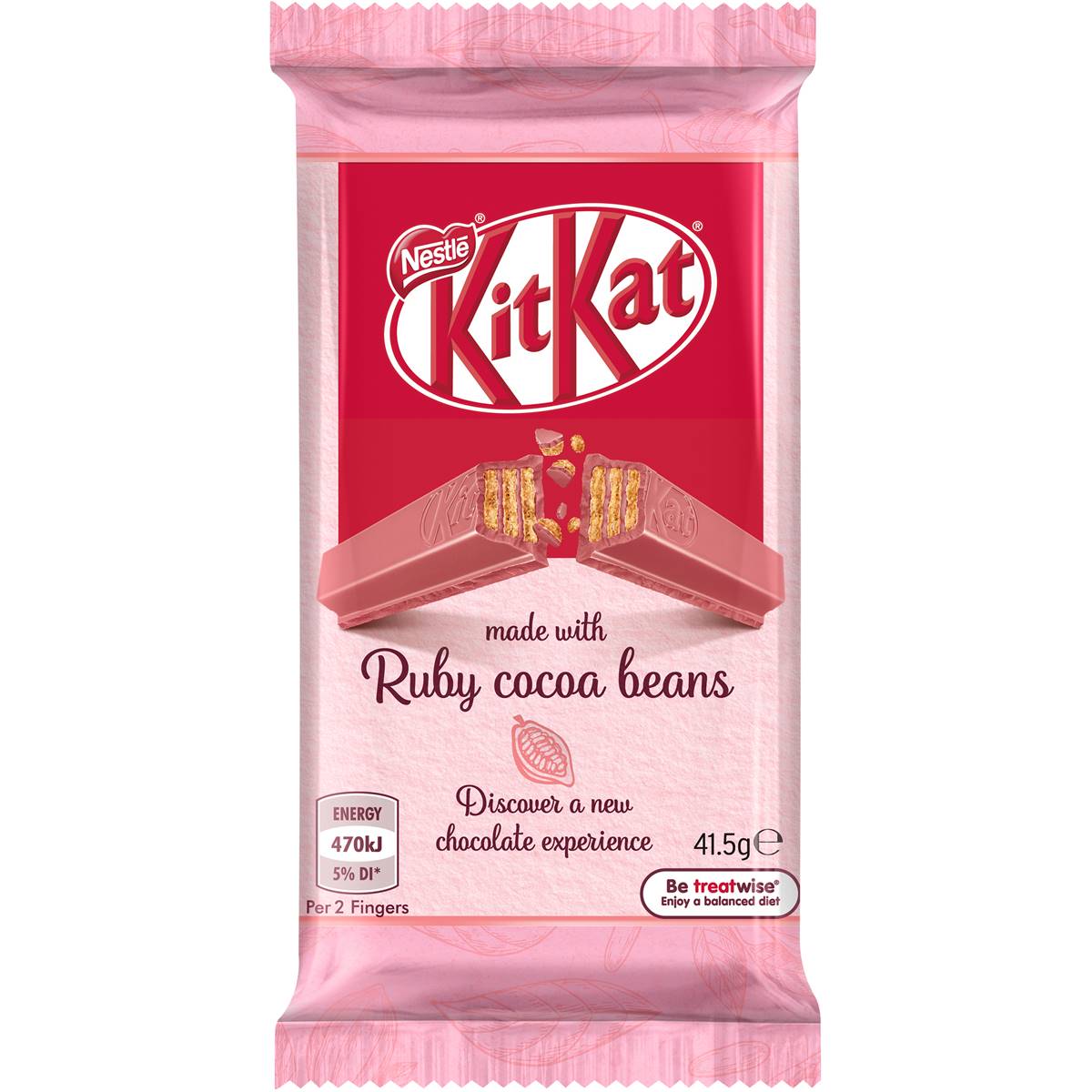 Image gallery
Each link opens a larger version of the image
Nestle Kitkat Ruby Bar 41.5g
Product Details
NESTLE KITKAT Ruby - KITKAT 4 Finger made with natural Ruby cocoa beans. The ruby coloured chocolate occurs naturally through unique processing. Ruby chocolate has a fresh berry fruitiness that will give your taste buds a tantalisingly intense sensorial experience! The story of chocolate, which started with ancient civilisations in Central America, saw new chapters written with the introduction of milk chocolate in 1819 and white chocolate in 1936. Now discover KITKAT made with natural Ruby cocoa beans - a new, delicious and unique berry flavour experience. NESTLE KITKAT uses 100% sustainably sourced cocoa from the NESTLE COCOA PLAN and is certified by UTZ. The NESTLE COCOA PLAN aims to improve the lives of cocoa farming communities and the quality of the cocoa NESTLE purchases. Launched in 1935, KITKAT has become an iconic snack bar ever since. Just unwrap, break off a finger, snap it in two and savour the wafer finger covered in deliciously smooth milk chocolate. HAVE A BREAK, HAVE A KITKAT.
Ingredients
4 Crisp Wafer Fingers Covered in Premium Ruby Chocolate Ingredients : Sugar, Cocoa Butter, Milk Solids, Wheat Flour, Vegetable Fats, Cocoa Mass, Cocoa, Emulsifier (Sunflower Lecithin), Flavour, Food Acid (Citric), Salt, Raising Agent (Sodium Bicarbonate). Contains Wheat and Milk. May Contain Soy. Product Contains 68% Ruby Chocolate, 32% Wafer Fingers. Ruby Chocolate Contains Minimum 32% Cocoa Solids and Minimum 22% Milk Solids.
Nutrition Information
Nutrition
Avg Qty Per 100g
Avg Qty Per Serving
Energy
Approx. 2260kJ
Approx. 470kJ
Protein
Approx. 6.5g
Approx. 1.3g
Fat, total
Approx. 31.4g
Approx. 6.5g
– saturated
Approx. 18.3g
Approx. 3.8g
Carbohydrate
Approx. 56.8g
Approx. 11.8g
– sugars
Approx. 44.5g
Approx. 9.2g
Sodium
Approx. 85mg
Approx. 18mg
Further nutritional information may be displayed on back of pack.