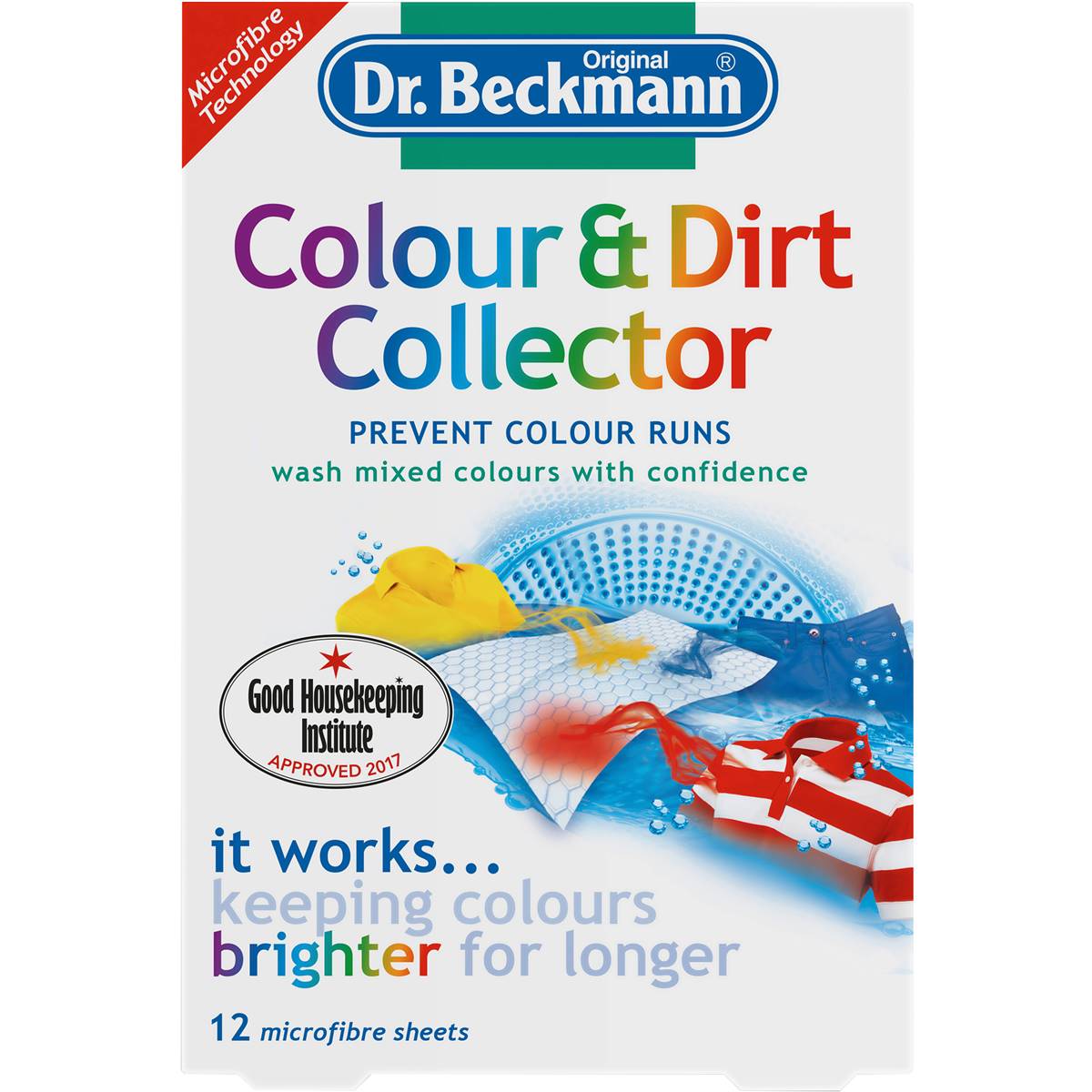 Image gallery
Each link opens a larger version of the image
Dr Beckmann Colour & Dirt Collector Sheets 12pk
Product Details
Wash mixed colours...
It's easy to separate your wash into whites and colours, but what do you do with multi-coloured clothes with patterns, stripes or even a mixed load containing different colours?
When you wash your clothes, colour and dirt are released into the water. If it is not collected this can end up back on your clothes. This will result in your colours being spoilt and less vibrant, and whites discoloured and dull.
Dr. Beckmann's New Colour & Dirt Collector sheets with the innovative Microfibre technology provides the best colour protection ever for your clothes. The extra fine fibres means there is a much larger surface area for the stray colour to 'lock-on' to, resulting in greater protection than standard sheets. As a result, colours stay brighter and newer for longer.
...with even more confidence!
Who is Dr. Beckmann?
In this corporate world we live in, it's nice to know that ACDOCO remains a family owned and controlled business, as it has been since 1919.
And as one of the owners, Dr Beckmann remains dedicated towards caring about and solving the most difficult problems associated with laundry, textiles and household cleaning.
The need for a range of products that are easy to use, high performing and effective, is what has motivated the desire to constantly develop the very best specialist cleaners available.
The Dr Beckmann brand itself has now been in the market for over 30 years, and not only is it the No 1 specialist Stain Remover in Europe, but the name appears in many continents around the world.
It is very simple... if it says Dr Beckmann on the pack, then you know it works, because we care about cleaning.
Wash mixed colours with confidence.
Unique microfibre technology.
Maximum protection.
It works... keeping colours brighter for longer.
Good Housekeeping Institute approved 2016.
Directions
Please read important information before use.
- Place a Colour & Dirt Collector sheet at the back of your washing machine then load the clothes, adding detergent as normal.
- Loose colour and dirt will be collected and locked on to the sheet during the wash cycle - at any temperature.
- Simply remove the sheet at the end of the wash and throw away. You can see the transferred colour & dirt locked on the sheet.