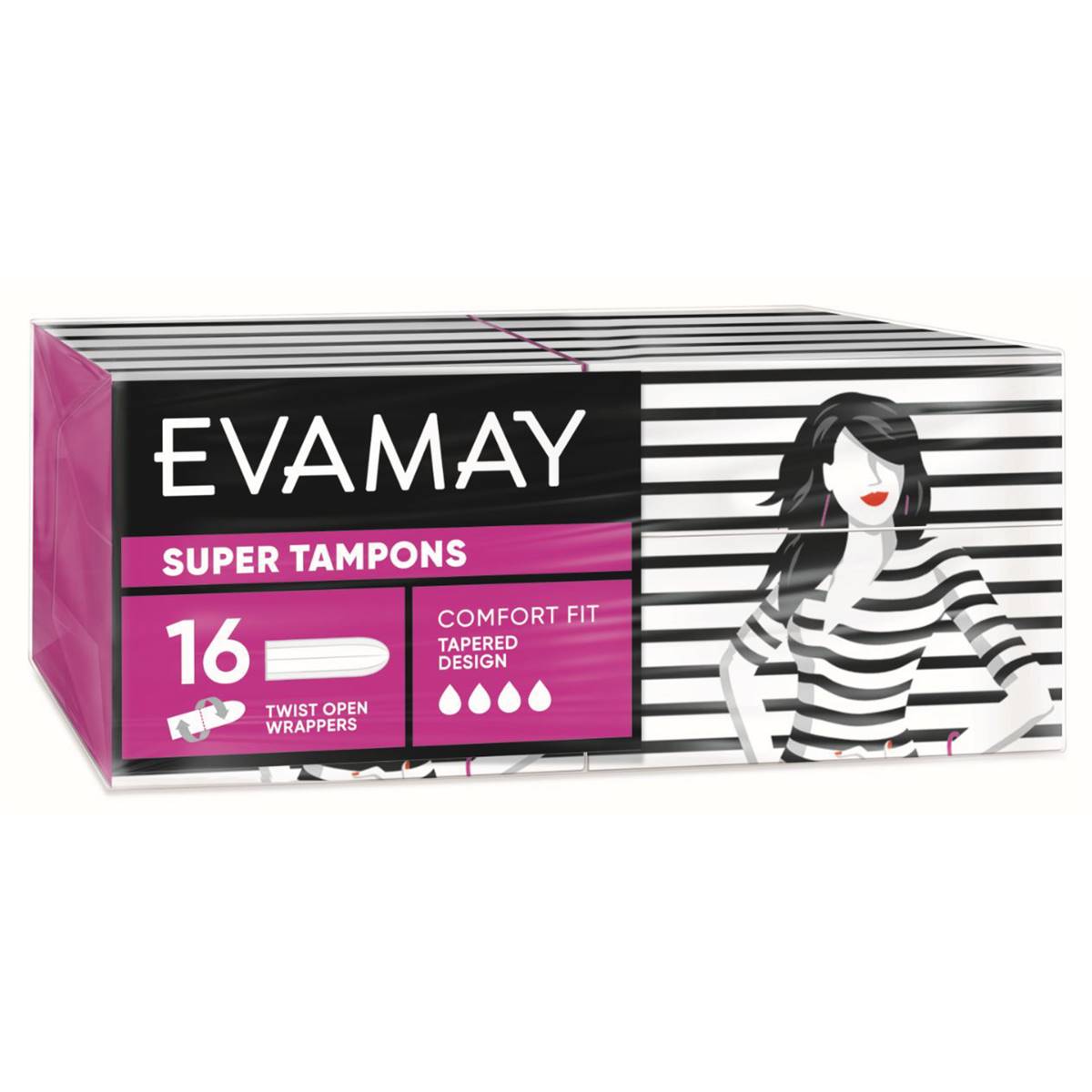 Image gallery
Each link opens a larger version of the image
Evamay Tampons Super 16 pack
Product Details
Always read the label. Follow the directions for use. This product may not be right for you. Read the warnings on pack before purchase. If symptoms persist, talk to your health professional.
Woolworths Select Tampons are shaped with a soft outer cover and tapered tip for easy insertion and a comfortable fit. Select Tampons offer maximum protection allowing you to feel confident and secure during your period.
- Rounded tip easy insertion
- Comfortable fit
- Small & discreet
16 Super tampons. Approximately 14g absorbency.
Material:
Viscose Fibre, Polyethylene Cover, Polyester/Cotton String.
9 out of 10 mums recommend!*
*Source: Mouth of Mums
Directions
Read and keep enclosed information.
Product Warnings
Tampon use has been associated with Toxic Shock Syndrome (TSS). TSS is a rare but serious disease that may cause death. Read and keep the enclosed information.
Please do not flush product or packaging down the toilet. Wrap product securely and dispose with normal household waste.
Ratings and Reviews
Reviews (4)
The following review was submitted by: jodiperone20 who gave this product 5 out of 5 stars.
Quality. I have for quite a while now been buying these and I am extremely pleased with the quality and know I can leave the house on those first couple of days when when things are a little heavier ,I like the little boxes/packs they are in, perfect for your handbag and extremely well priced and highly recommended xx
the 23rd of 2020
The following review was submitted by: flourpetal who gave this product 4 out of 5 stars.
Great price. I thought they were very well priced. Not quite as good as the more expensive brand I use at the moment but for the price I would definitely purchase them again.
the 21st of 2019
The following review was submitted by: nic62 who gave this product 5 out of 5 stars.
Great value. For a cheaper product I was pleasantly surprised. They performed up to my standards. Will definitely buy again.
the 2nd of 2019
The following review was submitted by: andrew_janna84 who gave this product 3 out of 5 stars.
Great cheaper alternative. Have given them a try myself and for a cheaper product they weren't too bad! I have tried some of the other cheaper brands and not overly keen as they come apart easily but these didn't!
the 26th of 2019