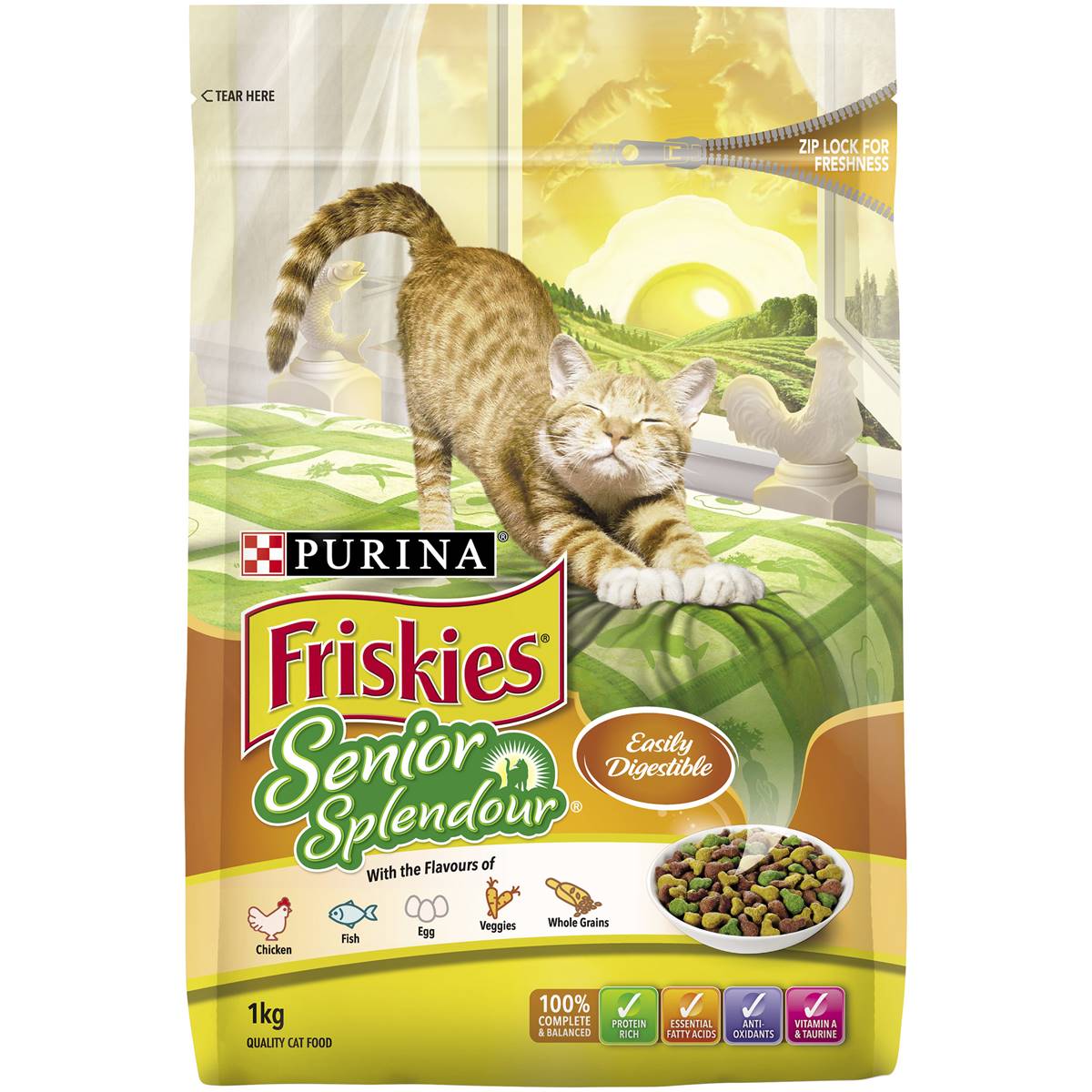 Image gallery
Each link opens a larger version of the image
Purina Friskies Senior Splendour 1kg
Product Details
FRISKIES Seniour Splendour® serves up a tantalising mix of flavours such as chicken, fish, egg, veggies and whole grains to make every day a delicious way to awaken your senior cat's senses.
Every bowl serves up a tantalising mix of flavours such as chicken, fish, egg, veggies and whole grains to make every day a delicious way to awaken your senior cat's senses. It's more than just a delicious meal, it's a sensory journey filled with wonder and delight.
Easily digestible kibble for ageing senior cats
Protein Rich to help maintain strong lean muscles
Antioxidants to help support a healthy Immune System
Essential Fatty Acids with omega 3 & 6 for a healthy skin & coat
Specifically formulated for the needs of senior cats
Vitamin A & Taurine to help support clear, healthy vision
Ingredients
Wholegrain cereals and/or cereal by-products; Meat and meat by-product (poultry and/or beef and/or fish and/or lamb and/ or pork) and/or poultry by-products; Vitamins, Minerals and Amino acids; Food colours; Antioxidants; Natural flavours.
Product Warnings
To avoid stomach upsets, please allow 7 - 10 days to ease transition from your cat's current food to Purina Friskies. Gradually add more Purina Friskies and less of the previous food to your cat's bowl until the changeover is complete.
For your pet's health, see your veterinarian regularly.