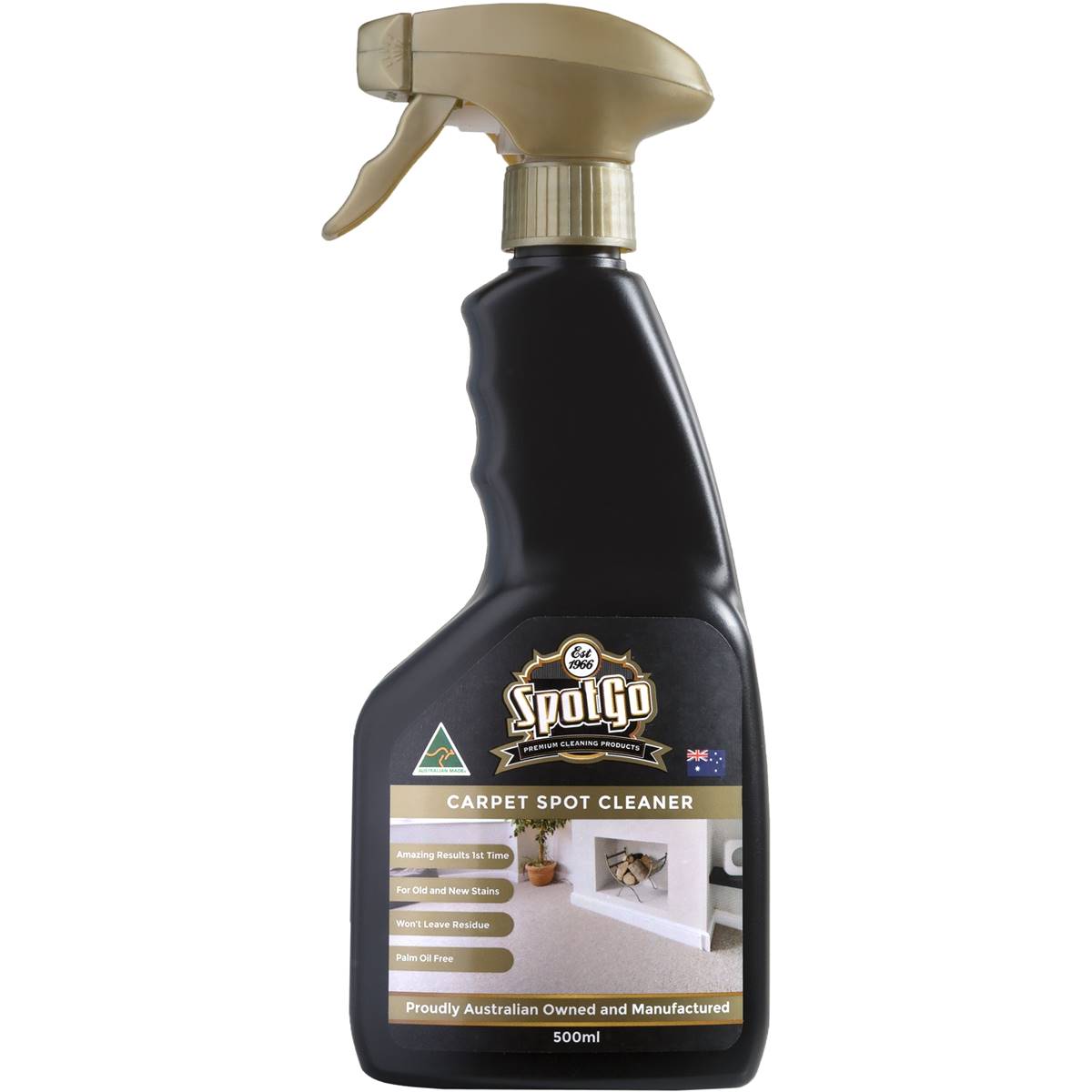 Image gallery
Each link opens a larger version of the image
Spotgo Carpet Spot Cleaner 500ml
Product Details
SpotGo's Carpet Spot Cleaner is Alkyl Phenol Ethoxylate Free using the latest cutting edge technology ingredients. It is Environmentally Friendly and Palm oil free. Higher concentration of active ingredients so you use less. Powerful Carpet Spot Cleaner that has been proven to remove most household stains.

Safe to use on all types of Carpet.
Does not leave powdery residue or brown staining.
Won't ruin Carpets.
Fast Acting ingredients for immediate results.
For old and new stains.

Directions: First remove any solid matter or for liquid spills use paper towel to remove excess liquid then spray or drip minimal product onto affected area. Leave for a few seconds and wipe off with a warm damp cloth, working from the edge of the stain towards the centre. Rinse cloth in fresh warm water and repeat until stain is removed, blending the moisture out gradually. Do not over agitate carpet by rubbing hard. Can be used on fabric upholstery but only by spraying a light mist from a distance and wiping clean with a very lightly wet cloth. If you use a damp cloth you may be left with a water mark on your fabric.
Directions
- Test a small inconspicuous area using a white towel for colour fastness test.
- Scrape off any excess deposit.
- Spray or drip directly onto the spot, less is better.
- Leave for a few seconds.
- Using a white cloth or sponge, wipe area gently from Ine of spot into the centre of the spot.
Product Warnings
- Keep out of reach of children.
- If swallowed, do not induce vomiting, seek immediate medical advice.
- For medical advice please phone 131 126.