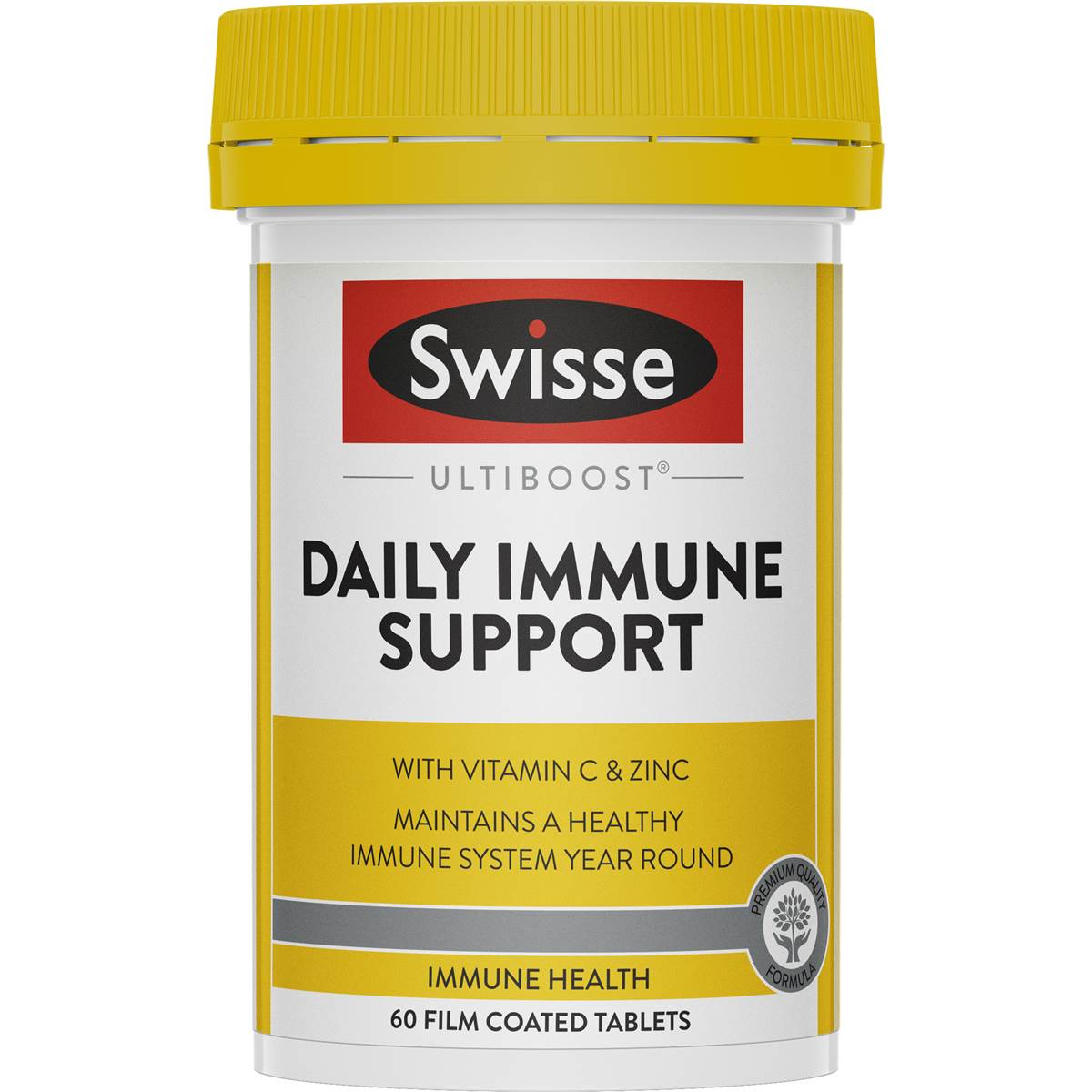 Image gallery
Each link opens a larger version of the image
Swisse Ultiboost Daily Immune Support Tablets 60 pack
Was $20.00
$16.67 / 100EA
Product Details
This medicine may not be right for you. Read the label before purchase. Follow the directions for use. If symptoms persist, talk to your health professional. Supplements may only be of assistance if dietary intake is inadequate.


BENEFITS: Swisse Ultiboost Daily Immune Support is a premium quality formula to help maintain a healthy immune system year-round.
Immune Support: Zinc and vitamin C support healthy immune system function.
Common Cold Symptoms: Vitamin C helps reduce duration and severity of common cold symptoms.
Ingredients
EACH TABLET CONTAINS: OLIVE LEAF (Olea europaea extract 55.56 mg) equiv. dry leaf (standardised to contain oleuropein 11.1 mg) 250 mg (min.) VITAMIN C (ascorbic acid from calcium ascorbate dihydrate) 500 mg ZINC (from zinc sulfate monohydrate) 25 mg MAGNESIUM (from magnesium aspartate dihydrate) 18.75 mg COPPER (from cupric sulfate pentahydrate) 1 mg CITRUS BIOFLAVONOIDS EXTRACT 20 mg
Directions
DIRECTIONS FOR USE: ADULT DOSAGE: General Immune Support: One tablet daily. Common Cold Symptoms: Two tablets daily. Or as directed by a healthcare professional. Take during or immediately after a main meal.
Product Warnings
WARNING: Contains zinc which may be dangerous if taken in large amounts or for a long period. Vitamin & mineral supplements should not replace a balanced diet. If symptoms persist, talk to your health professional. For adult use only.