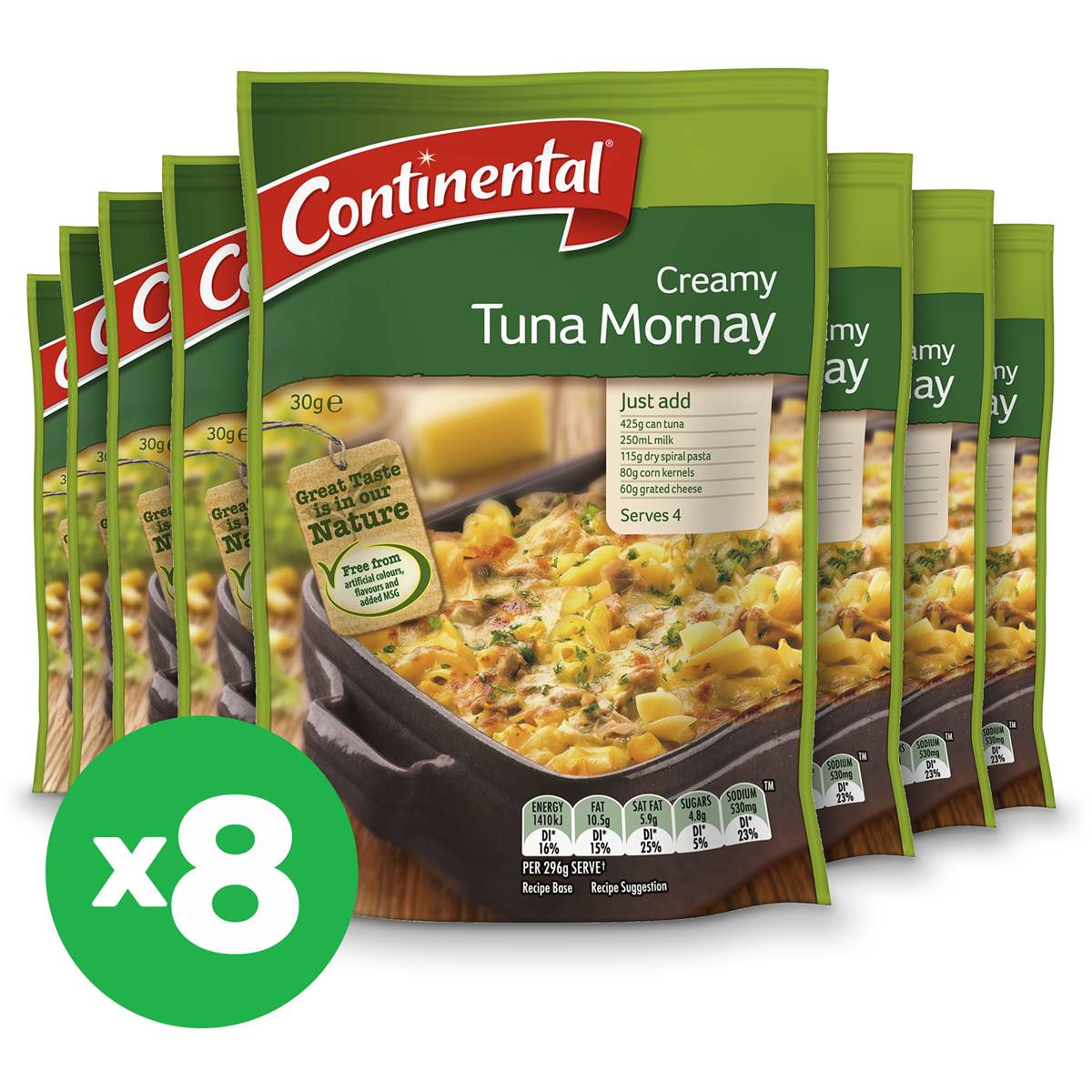 Image gallery
Each link opens a larger version of the image
Continental Creamy Tuna Mornay 30g X8 Bundle
Bundle Details
Create your own classic in no time with Continental Recipe Base Mixes. Creamy Tuna Mornay is a family favourite of pasta and tuna in a creamy cheese sauce, finished under the grill for a crunchy and golden top. This tasty dish easily feeds four and is a fantastic weeknight meal served with a tossed green salad. Please Note: This offer is available online only and may not be redeemed in store. The items pictured are intended only to be indicative of the type of bundle and may not be identical to the actual brand or products you receive depending on your location. Fresh produce may vary due to seasonal availability. Please refer to product list on this bundle detail page for an accurate description of products contained in this bundle. Props used in images are not included. For nutritional information and ingredient details, please refer to the actual product pack.
Ingredients
our ingredients... Corn starch, wheat flour, cheese powder, natural flavours (contain milk derivative), salt, yeast extract, sunflower oil, onion powder, maltodextrin (from wheat), parsley, natural colour (carotene), turmeric.
Allergen may be present
Crustacean, Egg, Fish, Peanuts, Sesame, Soybean
Nutrition Information
Nutrition
Avg Qty Per 100g
Avg Qty Per Serving
Energy
1620kJ
Per serving dry:134kJ, Per 100g dry: 1410kJ.
Protein
9.0g
Per serving dry:0.7g, Per 100g dry: 27.9g.
Fat, total
10.0g
Per serving dry:0.8g, Per 100g dry: 10.5g.
– saturated
5.3g
Per serving dry:0.4g, Per 100g dry: 5.9g.
Carbohydrate
63.9g
Per serving dry:5.3g, Per 100g dry: 31.6g.
– sugars
4.6g
Per serving dry:0.4mg, Per 100g dry: 4.8g.
Sodium
3570mg
Per serving dry:0.4mg, Per 100g dry: 4.8g.
Further nutritional information may be displayed on back of pack.