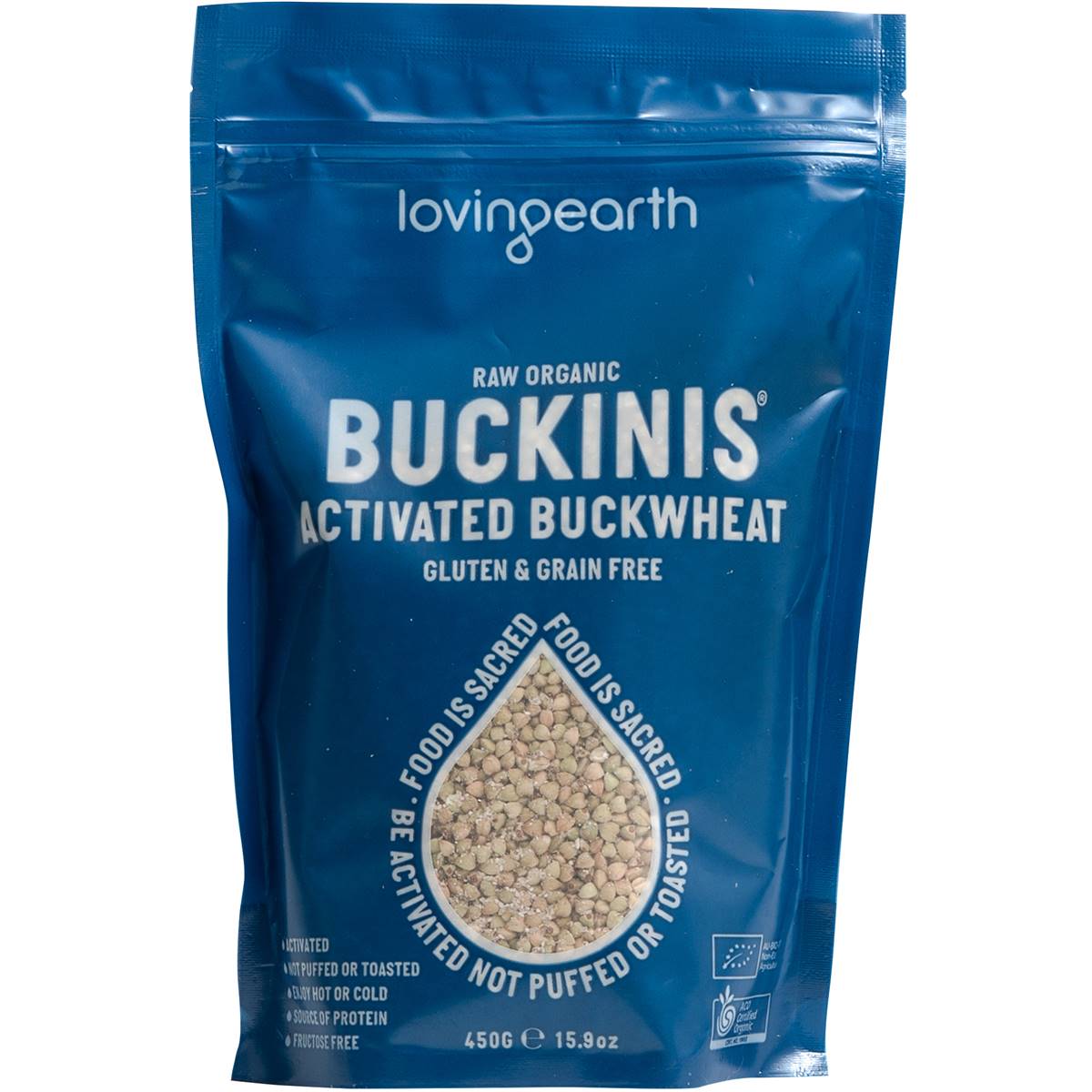 Image gallery
Each link opens a larger version of the image
Loving Earth Organic Activated Buckinis 450g
Product Details
Raw organic activated. Not puffed or toasted.
Not puffed or toasted.
Enjoy hot or cold.
Source of protein.
Fructose free.
Healthy.
Sustainable.
Fair.
Vegan.
Sugar-free.
Grain free.
Gluten free.
GMO-free.
Soy free.
Preservative free.
What are Buckinis? We invented the name to describe our activated buckwheat. Buckinis are grain-free, gluten-free, crunchy kernels of goodness that don't go soggy in cold milk. And they're not wheat, in fact, they're not even grain; they're a protein-packed seed.
What is activation?
Most cereals are puffed or toasted. We prefer to make the most of our ingredients, so we activate them. Activation is the same as sprouting - soaking the seeds in filtered water to release the enzyme inhibitors, bringing the seeds to life.
Enzyme inhibitors exist to keep seed dormant as it waits for the right conditions to germinate. This prevents the nutrients in the seed from being released into your body when you eat it.
Why is activation good for me?
Activation starts the sprouting process, removing the enzyme inhibitors and making the nutrients available to nourish your body.
The final step is to dehydrate the buckwheat at a low temperature which preserves the vital nutrients and gives our Buckinis their crunchy texture. And why do we do all this? The answer is simple - so that when you wake up to Buckinis, you'll feel great on the inside and activated to start your day.
Ingredients
Raw Organic Activated Buckwheat.
Nutrition Information
Servings Per Package: 9
Serving Size: 50g
Quantity Per Serving
Quantity Per 100g / 100mL
Quantities stated above are averages only. Further nutrition information may be displayed on the product label.
< means Less Than.
- means that the value is not available.