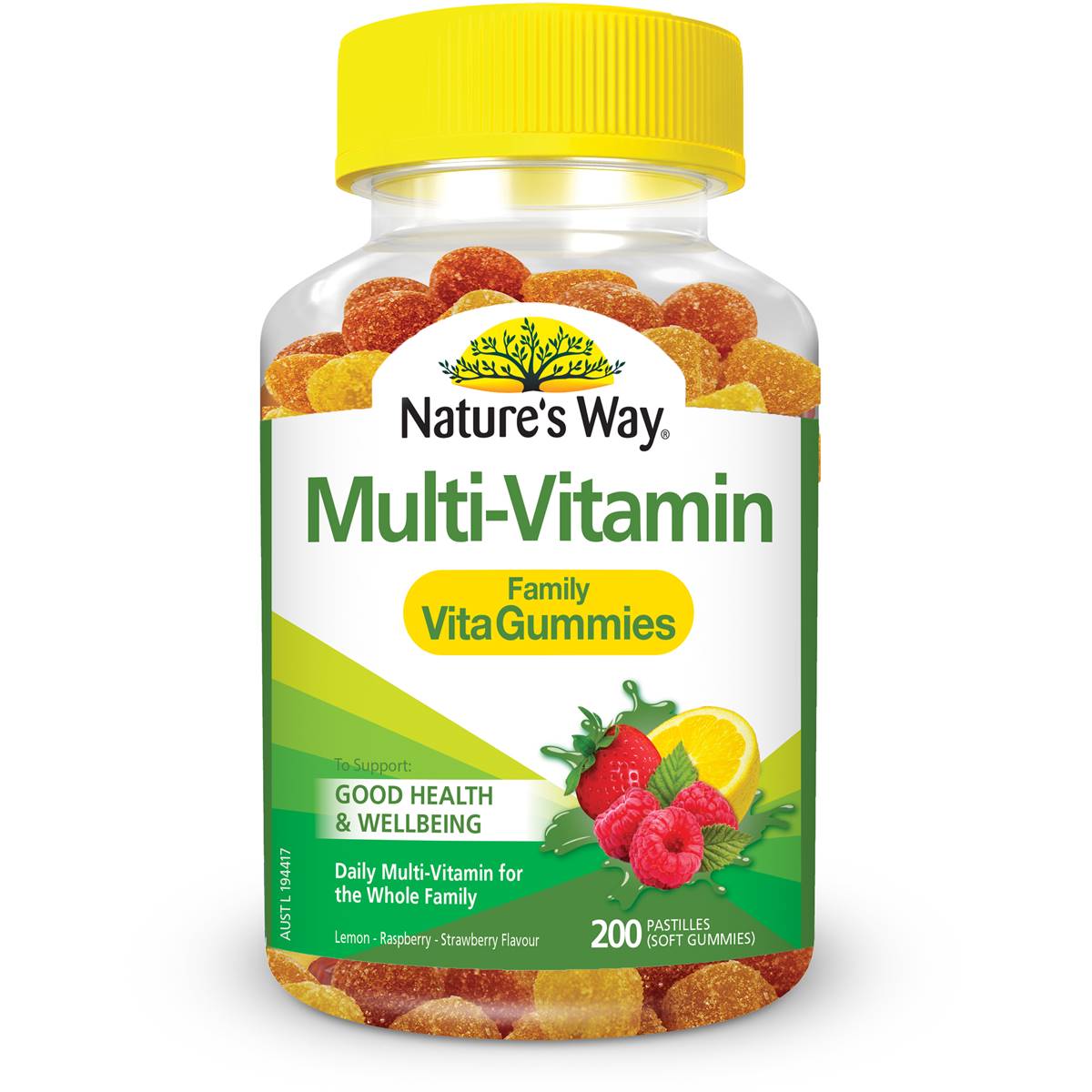 Image gallery
Each link opens a larger version of the image
Nature's Way Vita Gummies Family Value Pack 200ea
Product Details
Always read the label. follow The directions for use. This medicine may not be right for you. Read the warnings on pack before purchase. If symptoms persist, talk to your health professional. Vitamin supplements are not a substitute for good nutrition or a balanced diet.
Great tasting Multivitamin for the whole family!
Nature's Way Multivitamin VitaGummies are a great tasting fruit flavoured gummie that is the easy way to help get the essential vitamins and minerals you need.
As part of a healthy lifestyle, it is important to get key vitamins and minerals that your body needs every day, to support good health.
Nature's Way Multivitamin VitaGummies are specially formulated with 14 key vitamins and minerals to help support:
- Immunity
- Energy
- Heart Health
- Eye Health
- Stress & Nerves
- Strong bones & teeth
And best of all they so easy to take - no water and no swallowing difficult tablets.
Ingredients
Each Pastille (Lemon, Raspberry & Strawberry Flavour) Contains:
Ascorbic Acid (Vitamin C): 20mg
Nicontinamide 9Vitamon B3): 6mg
Dl-alpha Tocopheryl Acetate (Vitamin E): 3.5mg
Pyridocine Hydrochloride: 608mcg
Equiv. to Pyridoxine (Vitamin B6): 500mg
Folic Acid: 69mg
Biotin: 8.7mg
Cholecalciferol (Vitamin D3 100IU): 2.mg
Cyanocobalamin (Viatmin B12): 0.75mg
Thaimine Nitrade (vitamin B1): 350mcg
Calcium (as Calcium Phoaphate): 5mg
Iodine (as Potassium Iodine): 22.5mcg
Magnesium (As Phosphate - Dibasic Trihydrate): 5mg
Zinc (as Zinc Oxide): 1mg.

Sugars, Gluten, Wheat
Directions
Adults (12+ years): Take 2-3 gummies per day. For children 4-12 years: Give 1-2 gummies per day. Or as advised by our healthcare professional.
Product Warnings
Do not use if tamper evident seal is broken or missing. Vitamins can only be of assistance if the dietary vitamin intake is inadequate.

Contains sugars. Contains gluten from wheat (source: glucose liquid). Not to be used in children under 2 years old without medical advice.